Self-enhancement
Playing fair at the office

This is the first article in a four-part series on beauty tips for office ladies

Studies on beauty have shown that people tend to be more attracted to those perceived as young, energetic, radiant and confident. Psychologists have also found that attractive people tend to make a better impression during job interviews and often end up more likely to be offered the job.
In Hong Kong and other parts of Asia there is a perception that unblemished and light skin is desirable. Research has shown that around 75 per cent of Chinese women would like lighter skin.
Perceptions of beauty vary from region to region and -fairly or unfairly -it appears that Hong Kong women with paler skin may in some professional instances be advantaged.
Dark secrets
Women are bombarded with information about a huge range of skin-whitening products, all vying for a slice of this lucrative market. Medical studies have shown that certain skin-whitening products contain potentially harmful ingredients such as steroids and mercury. Clinically approved products, meanwhile, may deliver disappointing results.
Skin colour comes from a natural pigment called melanin. Scientific research has shown that there are eight factors leading to melanin production, including the transfer of melanin to the skin's outer layer, the production of melanin through tyrosinase, stimulation by free radicals, inflammatory mediators, the effects of ultraviolet A and B light and dullness caused by light reflecting on an uneven skin surface.
Multi-targeted approach
The only way to safely achieve the desired results is through products adopting a multi-targeted approach ( 八方 解碼 ):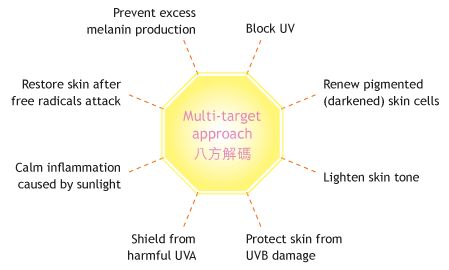 Contributed by Christabel Cheng, professional marketing & public relations manager marketing department, Johnson & Johnson Consumer Hong Kong
Email: ccheng6@jnjhk.jnj.com

Taken from Career Times 04 July 2008, p. C12

讚好 CTgoodjobs 專頁,獲取更多求職資訊!