Garment
Pret-a-porter
by Charles Mak
Kelvin Ching
merchandising director, Asian division
Luen Thai Holdings Limited
Photo: Wallace Chan
Anybody would be wary of leaving behind a familiar environment for a shift in career orientation. This sentiment however, did not bother Kelvin Ching, who is now merchandising director, Asian division, Luen Thai Holdings Limited.

When Mr Ching first cut his teeth into merchandising in the late 1980s, he was equipped with no more than a handful of accounting skills. His career swing, which followed four years of intensive number crunching at an accounting firm, was smoothed out by determination and a keen interest in the relatively more pulsating profession.

"Hong Kong's economy took off in the '80s and finding a job was easy," Mr Ching notes. "I love a challenge and the transition allowed me to work with like-minded people of my own age group, which was a plus."

Professionals in the merchandising and purchasing field typically demonstrate a propensity to work long hours—a norm that many people would eschew but was peculiarly attractive to Mr Ching. "I thought I could put my youth and energy to better use and believed that I could accomplish more," he adds.

Cut out for the job

Mr Ching kicked off his merchandising career at the buying office of an international ready-to-wear brand. His first days were hard going. With less sophisticated system support then, he found himself overwhelmed by the complexity of the industry and the heavy workload but readily got his hands dirty. To learn the ropes, he even enrolled himself in a course provided by the Hong Kong Polytechnic University.

"You need all the basics, from drafting an order to sampling, quality assurance and delivery so as to understand the entire process," he advises. "This is the only way to build your acumen."

The boom period attracted an influx of buying offices and manufacturers, opening up a wealth of career opportunities. In just one year, Mr Ching was offered a better package from a trading firm and shortly afterwards another from a manufacturer. There was a distinctive difference between working for the two, he stresses. "The latter gave me knowledge of cost control and most importantly the manufacturing process," he says. "I took these jobs because I felt that I needed to know everything."

Another job offer that required a one-year stay in Guangzhou came his way in June 1989. The bulk of the job involved high-level coordination with Japanese firms plus responsibilities towards quality assurance, sourcing and business development. "I was not prepared to negotiate a package. I was too excited by the prospect of working in China," he states. "I wasn't even concerned about the change in lifestyle."

Feet on the ground

Back in Hong Kong the following year, Mr Ching started a long and fruitful relationship with Luen Thai. "I was still exploring the industry then but decided that it was time I settled down for something worthwhile," he recalls.

Before long, he was transferred to the company's manufacturing plant in Saipan to fill a production coordinator position. "I learnt a great deal about garment manufacturing and mass production," he says. That stint proved to be a step in the right direction. Back in Hong Kong again, he was given the job of manager assistant at the company's sales and marketing department. Since then he quickly rose through the ranks and when he left the company in 2004, he held the position of merchandising director.

After experiencing the operations of some other reputable companies, Mr Ching rejoined Luen Thai in May last year and now oversees the company's woven merchandising division spending five days in Dongguan.

Mr Ching notes that the apparel industry has undergone a major transformation over the last decade. It appears that the majority of Hong Kong-based factories have now relocated to mainland China. Customer expectations have also escalated dramatically.

But whatever the changes, a merchandising job presents the same, if not increasing, challenges. "People wanting to tap into the industry must have a passion for the job and stay focused. Don't look for short term gains," he cautions. "Today, textbook knowledge is clearly indispensable but hands-on experience remains the key to merchandising success. Career-wise, you must learn to align your skills and development route with the company's business direction. The value of your role lies in the way it contributes to the company's growth."

To keep his finger on the pulse of the industry, Mr Ching visits fashion boutiques. "It's a great way to find out what sells. If you're clever, you may even be able to distinguish strategies like product development and pricing. These will help you develop a full picture of a business, its customers and the competition," he concludes.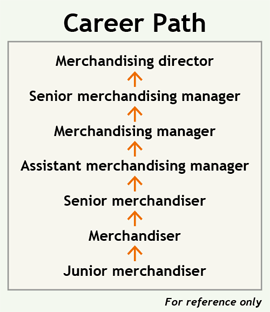 Taken from Career Times 5 March 2010, B12

讚好 CTgoodjobs 專頁,獲取更多求職資訊!