Financial Planning / Wealth Management
Professional qualifications a springboard to higher career goals
by Charles Mak
Carrie Leung
chief executive officer
The Hong Kong Institute of Bankers
Photo: Louis Lam
Professional body drives sustainable collaborative efforts to bolster professionalism in the face of mounting global challenge
Things are certainly looking up in Hong Kong's banking and finance industry where opportunities abound for mid-career people and fledgling graduates eager to enter the field.

According to Carrie Leung, chief executive officer, the Hong Kong Institute of Bankers, banking recruitment is hot on the heels of the recent financial upturn. "Young graduates in particular can now take advantage of the abundant job offers and take on starting roles as management trainees, financial services trainees and customer service trainees," she says. "These entry-level positions give them the necessary banking service experience to lay the groundwork for future prospects."

Competition in the employment market will only get more keen and employers increasingly selective. Ms Leung advises fresh graduates to view every job interview as a unique opportunity and be mindful of the job requirements and try and meet those with the information they choose to put into their resumes in order to stand out from the crowd.

"They must also demonstrate a willingness to learn and show a commitment to fostering business and industry growth in addition to their career futures," she says, adding that experienced professionals must also pursue continuous learning for career advancement.

Success factors

Employers look to go-getting staff who actively seek out enhancement opportunities to keep abreast of the shifting dimensions of product and service quality for driving change and sustainable development. For this reason, they tend to favour job candidates who hold recognised professional qualifications such as the HKIB's CFMPTM and AHKIBTM, which have gained in significance and popularity among budding bankers as well as people from other professional fields.

"Banks and financial institutions in Hong Kong, Macau and mainland China recognise the CFMPTM as the professional qualification for wealth management executives," Ms Leung points out. These include Bank of China (Hong Kong) Limited, Citibank Hong Kong, DBS Hong Kong, HSBC, Hang Seng Bank Limited, Nanyang Commercial Bank Limited, Wing Lung Bank Ltd, Bank of China (Macau), Industrial and Commercial Bank of China (Macau) Limited, ABN AMRO China, Bank of Chongqing, the Bank of East Asia (China) Limited and Nanyang Commercial Bank (China) Limited.

In anticipation of imminent change and future challenge, the HKIB in 2009 reviewed the structure of its AHKIBTM professional diploma programme which now exudes greater flexibility and applicability, catering to the diverse enhancement needs for professionals on various career levels and backgrounds. For instance, accountants, lawyers and IT specialists may choose to complete the core stage—Diploma in Banking and Financial Services, and obtain fundamental banking knowledge that expands their professional horizons. Others may move on towards the advanced diploma and subsequently specialist diploma for the length and breadth of the banking industry.

"When recruiting, banks in Hong Kong give preference to holders of CFMPTM and AHKIBTM," Ms Leung remarks.

New benchmarks

With a view to sustain the development of Hong Kong's banking industry, the Education Bureau appointed the HKIB to draw up a set of the Specification of Competency Standards (SCS) which are now contained in the government's Qualifications Framework (QF) specifying the competency standards with respect to skills, knowledge and attitude required for performing jobs on all levels in the retail banking sector.

"The SCS also provides concise across-the-board criteria for job performance assessment, helping employers to align the formulation and implementation of human resources management and staff training polices with business development strategies," Ms Leung notes.

Aside from this, budding bankers and people contemplating a move into the industry may make easy reference to the SCS prior to enrolling in specific training.

The implementation of the QF turns a new page in the industry and signals the way forward for workforce enhancement, ushering in a series of positive impacts on the development of Hong Kong's banking industry in the long run.

"The objective of this endeavour is to build and sustain a strong talent pipeline for the banking industry in five to 10 years so as to strengthen Hong Kong's position as a global financial centre," Ms Leung concludes.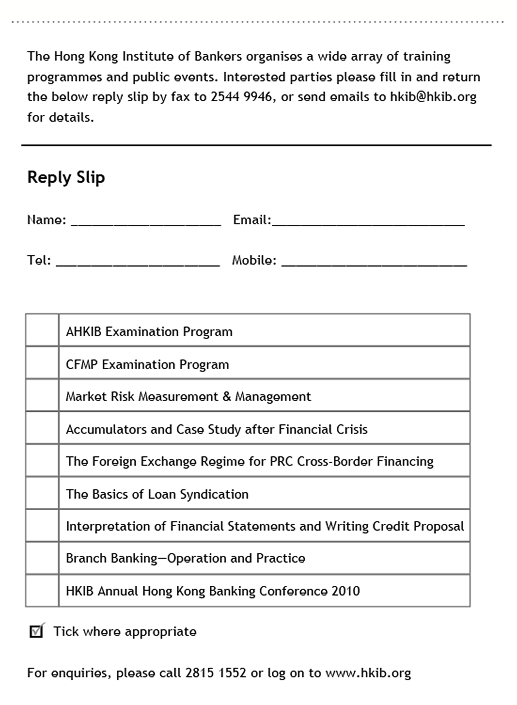 Taken from Career Times 12 March 2010, A2

讚好 CTgoodjobs 專頁,獲取更多求職資訊!