Money Moves
Putting compassion into action
by Grace Chan
Financial institution calls on staff to lend a caring hand
Merianna Lok
regional head of human resources
HSBC Insurance (Asia-Pacific) Holdings Limited
Photo: Edde Ngan
Performing a caring act can give people a sense of fulfilment and happiness. "This means even more if those you help and support are your colleagues," says Merianna Lok, regional head of human resources, HSBC Insurance (Asia-Pacific) Holdings Limited.
Realising this, HSBC Insurance initiated the set up of its own patient care group "Cancer Support Circle" (CSC), aiming to connect people, raise their awareness of cancer, and see to the needs of cancer patients and their families.
"Surviving cancer takes more than mere medical support," emphasises Mrs Lok, who recovered from cancer a while ago.
Chairlady of the CSC, Mrs Lok is an advocate of patient care, expressing deep concerns over colleagues who are fighting the ghastly disease, and educating others on cancer prevention. "The process of treatment can be tough for cancer patients. They need to have a strong will to face challenges and hardship during medication," she stresses.
In her experience, support and care from family members and friends are crucial since they can help patients to see the positive side of things. Meanwhile, practical advice and information from those who have conquered cancer can help them do the right things and remain upbeat.
She notes that members of the CSC work together towards the mission of promoting a caring culture within HSBC, passing on the message to colleagues, patients and their families, making sure that nobody is alone in the battle against the killer disease.
Catalyst for health
Mrs Lok emphasises that prevention is always better than cure. Therefore, learning about and adopting a healthy lifestyle is important. For this reason, the CSC organises a range of activities including health talks and seminars. "Our first activity was a health talk presented by Dr Tony Mok, professor of clinical oncology at the Chinese University of Hong Kong. The response was excellent," she says.
To inculcate a caring culture, the CSC also immerses its members in community service and prompts their contribution to society at large. "HSBC Insurance has been staging an annual Halloween charity parade since 2007, helping to raise funds for the Hong Kong Cancer Fund. Participants, including members of our senior management, parade in Halloween costumes from the HSBC headquarters to the Star Ferry in Central," Mrs Lok adds.
Over the last two years, more than HK$4 million have been raised to support the development of the Queen Mary Hospital Cancer Care and Support Unit, the Cancer Patient Resource Centre at the Prince of Wales Hospital and the one at the Pamela Youde Nethersole Eastern Hospital.
This year, all CSC members will assist and participate in the event, with a target to raise HK$2 million to support the Wong Tai Sin Cancer Link Centre's Hotline Upgrade Project. "Thanks to the support and enthusiasm from our colleagues and corporate donors, we've already raised more than HK$1.2 million," Mrs Lok reveals.
She remarks that a wide array of community services and volunteer programmes is currently in the pipeline, and these include hospital visits and gatherings. "We aim to connect people," says Mrs Lok. "In so doing, we hope to form a "circle of friends" for patient colleagues and their families, correct misconceptions about cancer and instil positive thinking for those confronting the disease."
Strong bonds
Adhering to its role as a socially responsible employer, HSBC has always encouraged its staff to do good deeds in and outside of the workplace. About 70 per cent of HSBC staff have participated in community works in recent years. According to findings from the bank's latest employee engagement survey, staff dedicated to charity work are better engaged and more committed to the bank.
"Another key objective of the CSC is to engage our members in supporting cancer patients' returning to work, helping to rebuild their lives and contributing to HSBC's corporate sustainability," Mrs Lok reiterates.
Promotion of the CSC and its missions is done via various channels including the bank's intranet, which keeps members of staff up to date with the support group's development and activities.
"All our staff are welcome to sign up with the CSC. In fact, we are looking to recruiting more members so as to make sure that help is always at hand," Mrs Lok concludes.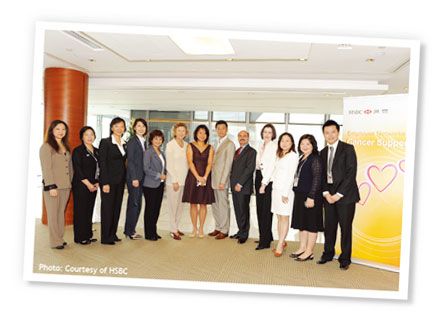 Rich in health
Cancer survivors extend support to suffering colleagues
Regular activities raise health awareness
Participation in community activities show care outside the workplace
Halloween Parades garner support and raise funds for charities

Taken from Career Times 16 October 2009, p. A2

讚好 CTgoodjobs 專頁,獲取更多求職資訊!