Career Path
Radio producer airs his views
by Grace Chan
Barry Ip
senior producer and programme host—Metro Info
Metro Broadcast Corporation Limited
Photo: Lewis Lam
Until 10 years ago Barry Ip's whole life evolved around dancing. He graduated from the Hong Kong Academy for Performing Arts with a qualification in dance choreography, and then opened a dance studio shortly afterward. It was a life-long dream, but unfortunately, it soon left him broke. With his dreams dashed, he stepped into the world of broadcasting. It was a chance opportunity that proved to be more rewarding than he could have imagined.

Today, Mr Ip is the senior producer of the popular radio youth programme "Metro Info". Operated by Metro Broadcast Corporation Limited, the programme is an all-in-one programme touching on subjects such as entertainment, music, lifestyle, healthcare, commerce and self-enhancement.

"Before graduation, I was already a programme presenter at i-Cable TV. It was the channel director who recommended me to Metro Radio," says Mr Ip. However, his broadcasting career was anything but fascinating at the start.

Bumpy beginning

For two years, Mr Ip was responsible for live traffic reports and this work took him out of his comfort zone. "I had little interest in traffic news. Worse still, my sense of direction was so weak that I couldn't even figure out where Princess Margaret Road was," he recalls.

A year later, opportunity knocked on his door. He says, "I was assigned to host an afternoon programme together with Sandy Chan a veteran DJ who became my mentor, passing me a lot of radio broadcasting skills like the techniques in producing a jingle."
To his disappointment, he was transferred from this prime-time youth programme to a late night slot after the radio station's revamp campaign in 2002. "I wanted to throw in the towel," Mr Ip discloses. "Our channel director, however, made his point that the transfer was a great opportunity to challenge my ability to go it alone."

Sign of success

Inspired by the creative ingenuity of popular DJ and lyricist Wyman Wong, Mr Ip attempted to break the rules of midnight radio programming. As late-night shows usually convey a tranquil mood, the radio host injected a boisterous energy into his new programme entitled "KaraO! BABE", which allowed listeners to phone-in and sing live from dusk until dawn. The programme turned out to be one of the year's highest-rated midnight programmes, and was moved earlier to the prime time slot at 11pm. This marked a turning point in Mr Ip's broadcasting career.

With a belief that the role of a radio programme host should carry social responsibility, Mr Ip spearheaded the first charity karaoke marathon in 2004. The radio marathon broke the Guinness World Record for 83 successive hours of singing and became one of Metro Radio's four major annual events.

Adding to his radio success, Mr Ip actively participates in voluntary work. "This is the most rewarding part of my career, when I can use my popularity to draw in young fans for a good cause," he emphasises.

"In the past, DJs were there to talk and broadcast music, but now this can no longer satisfy our audience," says Mr Ip. "Today's programme hosts need to be fully aware what is happening and address audience's needs," he explains.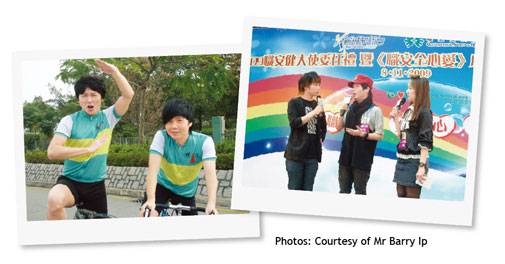 Unmatched rewards

Rather than do all the talking, Mr Ip returns to a traditional radio format by relying more on music and offering his audience a channel to express themselves in his recent programme. He keeps abreast of the latest news and trends by maintaining daily interaction with people from different backgrounds. "I never distance himself from the public," he notes.

Following his promotion to senior producer early this year, Mr Ip's daily tasks have extended to detailing the programme rundown, monitoring his own programme according to the broadcasting ordinance and balancing between the advertisers' and the audience's needs.

Despite the heavy workload, Mr Ip finds his job tremendously satisfying. "The days when I first joined Metro Radio, I didn't receive any formal broadcasting training. But I live with my personal motto of never give up and to always do my best," he reveals.

As many young adults aspire to a career in the broadcasting field, Ms Ip advises them to prepare for a tough time. "Being a programme host or a producer challenges you with long working hours, huge pressure, criticism and most importantly, continuous improvements. You have to take responsibilities and adapt to the ever-changing programme direction and requirements in a flexible manner," he says.

Taken from Career Times 7 May 2010, A20

讚好 CTgoodjobs 專頁,獲取更多求職資訊!