Self-enhancement
Rapper's delight
by Nicolette Wong
MC Jin hits career goals with rap success

Talent, passion and perseverance can reap rich rewards. Speaking at a recent Career Times seminar, celebrated rapper, songwriter and actor MC Jin shared his eventful yet motivational life journey with a young audience.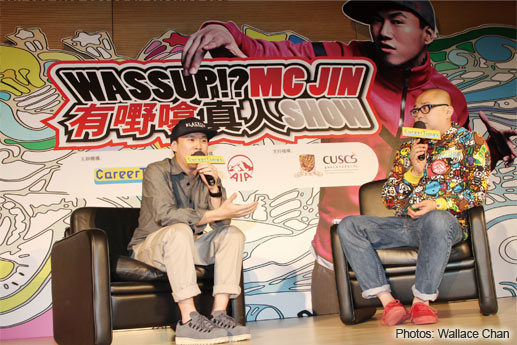 Early fame

The seminar format consisted of a series of frank and funny conversations between MC Jin and his friend Bob Lam, who was emcee of the event.

"Hong Kong's young people are amazingly creative when given the chance to shine and I had met many young hip-hoppers and rappers with real talents at local contests over the past few years," said MC Jin, adding that he had seen many of these artists express themselves through various channels, including self-directed videos. "It's a matter of recognition by others to allow their efforts to become public," he noted.

His own early days as a budding artist were filled with defeat and frustration. Born into the rich and vibrant cultural mosaic of New York City and raised in Miami in a Chinese family, MC Jin breathed and lived hip-hop culture and dreamt of one day becoming a star. A turning point came at the age of 15, when a classmate and rival ridiculed his ethnicity during a spontaneous "rap battle". He felt defeated and humiliated, but eventually realised that perseverance was the only way to overcome setbacks and hurdles.

As he carved out his career in various rappers' groups, MC Jin adopted a series of stage names—including H2O and Dynamite—but once he turned 18, with an established presence, he reverted to his real name, incorporating the MC as his title or "identity" as a rapper. He told the audience that fame arrived for him when he won a rap battle in a popular show on Black Entertainment Television and became the first Chinese person to have a rap album released by a major US record label. This was followed by a period of extensive media exposure and international appearances.

Ups and downs

When his career took a downturn in 2005, MC Jin was frustrated, but clung to his dreams. He reflected on his modest background, with parents that operated a series of failed Chinese restaurants during his childhood. This taught him that life was a rollercoaster ride and that people could not always control their emotions. "My background was very inspirational, because hip-hop is about telling stories. It also drove me to work hard towards my goals, so that I could take care of my family one day," he said.

He believes in the power of conviction during adversity. In 2008, he wrote a song in support of US president Barack Obama and posted it on his online music page. It caught the attention of Obama's election committee, which led to him being invited to perform during Obama's election campaign in New York. This was followed by a call from a representative of a music record label in Hong Kong regarding a yet-to-be-released rap album in Cantonese.

Apart from hard work and lucky breaks, effectively showcasing one's talent is vital to achieving success. MC Jin encouraged youngsters to show off their creative skills at public events and on the internet in order to raise their profiles and increase their chances of being "discovered".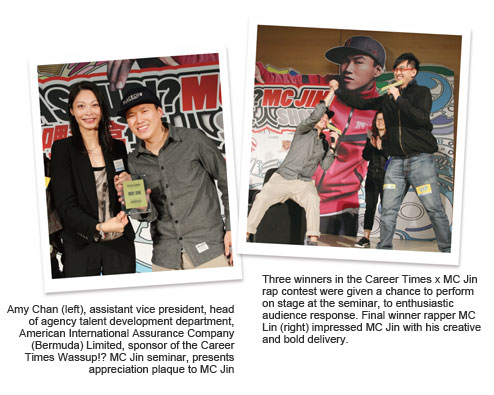 Looking back on his journey from the US to Hong Kong, MC Jin stressed that there were times when he felt defeated and stuck. "In the end there's only one question you need to ask yourself: how much do you love and cherish your career? Self-belief will take you far, just like creativity can sustain your career development, regardless of your path," he concluded.

Taken from Career Times 31 Dec 2010, P12
讚好 CTgoodjobs 專頁,獲取更多求職資訊!