MT Opportunities
Reaching for the sky
by Grace Chan

Airport Authority Hong Kong seeks young high-flyers

Young people in search of everyday challenge, excitement and ample scope for personal and professional growth may consider launching a career in aviation. The good news is, they need not look far.

To cope with the long-term development of the Hong Kong International Airport (HKIA), the Airport Authority Hong Kong (AA) is looking to grooming its team of young management talent.
The authority launched a two-year management trainee (MT) programme in 2005, incorporating an intensive curriculum to equip trainees with general management skills.

"Our management staff are generalists, whose skills and knowledge are highly transferable. For this reason, we welcome young talent from any academic discipline. The key thing is that they should have a genuine passion for aviation management," says Lilian Ho, senior manager, training & development, human resources & administration, Airport Authority Hong Kong.

Unlike functional staff that specialise in particular areas, the authority's management staff take a holistic approach to decision-making. "Our MTs will take up management roles in the future. Therefore, the training schedule incorporates job rotations and responsibilities and is primarily geared towards honing skills that will enable them to address issues from different perspectives," says Ms Ho. "The learning curve is steep."

Essential qualities

Considering the nature of the airport business, developing effective communication is essential for young people. "Due to the closer ties with our mainland counterparts, our trainees should be able to speak fluent English and Cantonese as well as Putonghua, and be proficient in writing the two languages," Ms Ho adds. Suitable candidates should also have a mature disposition and a knack to dealing with people from all walks of life. Above all, they need to demonstrate a flair for leadership.

She notes that the intake for MTs varies every year, depending on the development needs of the HKIA and the quality of candidates. "We recruited 10 trainees in 2005, but only two last year. We aim to recruit about five for next year," she reveals.

When it comes to career options, the Airport Authority believes young aspirants opt for learning and development opportunities rather than just monetary incentives. Through a combination of classroom teaching, on-the-job training and customised attachments, trainees are equipped with core airport management competence and are ready to take on greater responsibilities.

The training programme spans 24 months, with the first four familiarising the trainees with the airport's core departments, followed by a stint in two core functions for the next 20 months. In addition to routine responsibilities, trainees acquire a diverse range of skills and airport management knowledge by completing on-the-job projects and stretch assignments.

Mentors are assigned to the trainees, leading them along the right track, giving them feedback and helping to develop their analytical skills. "Our CEO and general manager give the trainees their personal attention. This motivates our trainees and enhances their sense of belonging," Ms Ho says.

Upon completion of the programme, trainees assume an officer role for a particular function in the third year, with the possibility of being put on the fast track, should they show potential through further assessment. "The room for career advancement with us is immense," Ms Ho notes.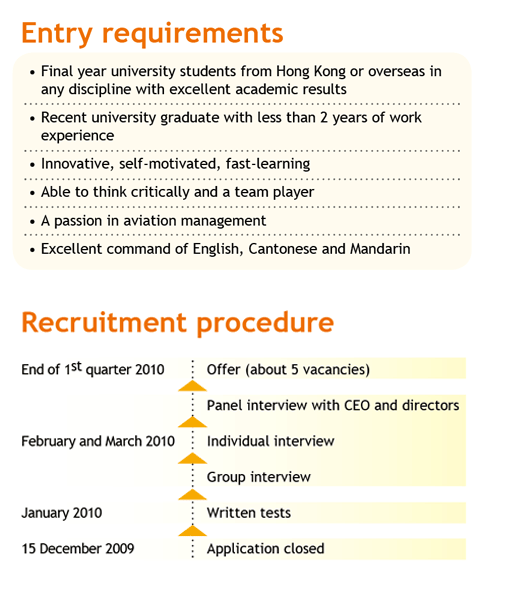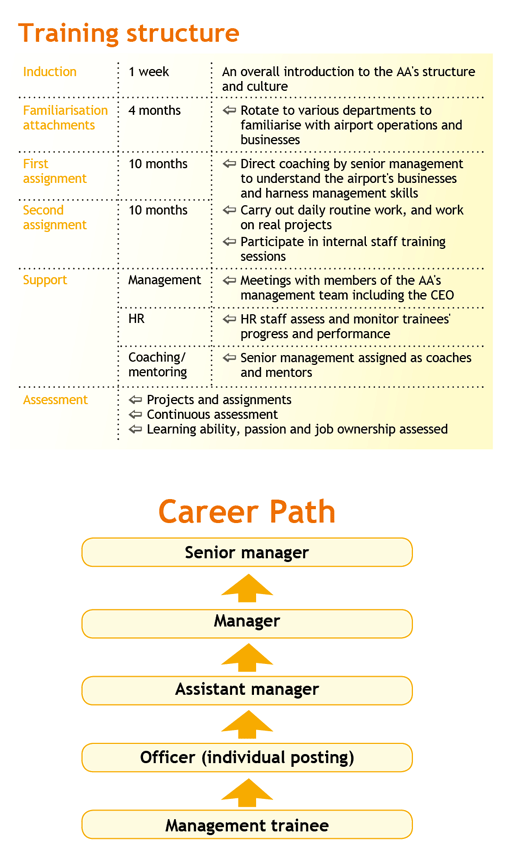 Going places



Rachel Tang
Qualification: Journalism, the University of Hong Kong
Year joined: 2008

"This year's training has confirmed my interest and aspirations in aviation operations and management. I believe there's plenty of room for long term career development here," says Rachel Tang, who joined the Airport Authority Hong Kong (AA) as a management trainee only last year.

"Aviation management requires attention to every subtle detail. I've had quite a number of exceptional experiences including an evening out on a runway for routine inspection," she recalls.

Ms Tang believes management trainee programmes can be a good starting point for fresh graduates. Her training experience over the past 13 months has been rewarding. "Tasks like complaints handling challenged my emotions and honed my interpersonal skills," she says.

After the first four months' familiarisation attachment, Ms Tang had her first nine-month key assignment at the Terminal 2 and Landside department, where she was responsible for formulating business plans for the renewal of cross-border coach and limousine service licences. Now she is attached to the Terminal 1 department while reviewing whether existing first-aid medical devices meet the current service standards.

Clear sky



Alexander Leung
Qualification: Public administration, the University of Hong Kong
Year joined: 2006

A true passion for the transport and aviation industry, along with a strong academic background, made Alexander Leung an ideal candidate for the AA's MT programme. "This learning opportunity is significant for my personal growth. It blends very well my education background and career aspirations," he says.

Since there are no formal aviation management programmes in Hong Kong, Mr Leung enrolled in a related programme to obtain an alternative view on the business. "Managing the HKIA is within the scope of public administration and I see ample growth opportunities for myself."

He recalls his first key assignment at the authority's strategic planning function: "By conducting strategic analysis in areas like passenger traffic flow, I gained fundamental knowledge about the airport's services."

After his second assignment involving the development of SkyPier, Mr Leung completed the two-year training programme and is now attached to the facilities planning function. "All the skills and knowledge I learnt from the different functions are tied together. That's the aspect of the programme I value most," he says.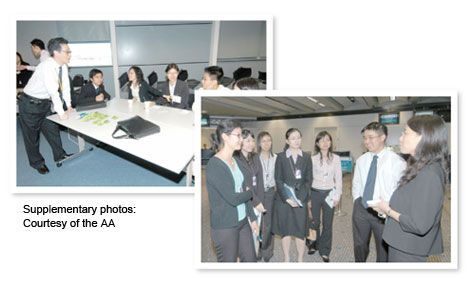 Taken from Career Times 11 November 2009, p. A6
讚好 CTgoodjobs 專頁,獲取更多求職資訊!