Career Path
Reaching for the stars
by Isabella Lee
Malcolm Copson, group CEO
STORM Signature Developments Group Limited
Photo: Edde Ngan
The mighty towers, tall hotels, artificial islands and other architectural marvels that have risen from the desert and ocean of the United Arab Emirates (UAE) in recent years have gripped the world's imagination.

One of the people that have played a role in the design and construction of many of the large projects conceived and completed in the Middle East is Malcolm Copson, group chief executive, STORM Signature Developments Group Limited.

Hailing from an electrical and mechanical engineering background, Mr Copson kicked off his career as a senior engineer for the UK-based railway carriage manufacturer Metro-Cammell. He was, among other roles, also responsible for designing and building trains for the former KCRC in Hong Kong.

A groundbreaking idea—to make the trains locally with parts shipped from abroad—allowed the KCRC new train deployment to be completed four months before the end of Mr Copson's company's two-year contract. This success was closely followed by another: Metro-Cammell was asked to take charge of the then MTRC's vehicles. Again, Mr Copson and his team completed the work well ahead of schedule. To date, the railway technology used by Metro-Cammell remains the most advanced in mass transit systems.

Mr Copson then moved on to become the projects and commercial director of the Specialists Group of Companies, working on major projects such as the Sanrio Puroland indoor theme park in Japan and Alton Towers resort in the UK. The next step was to become managing director of Curved Space Limited, working with esteemed designer Roger Dean on several high profile projects in the UK and overseas.

Mr Copson's global experience and multi-disciplinary expertise was noticed by a UAE sheikh, who approached him to look at the idea of establishing a Disney-style amusement park between Dubai and neighbouring emirate Abu Dhabi.

"I didn't think that would work in a place with such a small population," Mr Copson recalls. However, he stayed in the UAE and joined the construction and design company Gibca Group as industrial affairs director. After several years on the group's top management, he established STORM Associates Dubai in 2000.

The firm is committed to its unique philosophy of "imagineering", which Mr Copson describes as the process of erecting and completing landmark buildings and other major projects, thereby realising structures that once were just a vision.

New horizons

STORM created a series of signature buildings, such as the Dubai International Financial Centre, the Pallisades development, the Atlantis resort on the Palm Jumeirah island and Dubai International Airport's Terminal 3 building. The company also undertook a number of prestigious design projects in other parts of the Middle East.

Mr Copson, who is driven by his passion for "something different", believes that excellent design, and not budget, is what makes a good building. Following the norm, or "cookie cutting", does not interest him—he only crafts edifices that will inspire and astound residents or users, he says.

The starting point, he explains, is to understand thoroughly a scheme and the processes involved. While most engineers see projects as nothing more than plans, finance and construction on a piece of land, he ties all these aspects together and "imagineer" not only the design and engineering of what is to be built, but also all the commercial and operational aspects of every undertaking.

He notes that he has worked with many architects and designers to sculpt structures that pleased the eye, inspired people and had an impact on their lives, but that these initiatives have also made great business success. His latest initiative was to set up STORM Associates Hong Kong, to bring architectural originality, combined with commercial value, to mainland China, Hong Kong and the region.

According to Mr Copson, developers in Greater China are becoming more sophisticated and that "boring" projects and buildings designed by architects that still adhere to the "form-follows-function" doctrine are being phased out. He anticipates that box-like apartments, factories and office buildings will be replaced by concepts that "really make a difference", and adds that, in this industry, a positive attitude and ability to think creatively are more important than qualifications and book knowledge.

"You touch people's lives in a positive or a negative way. Life is about choices and every day I choose to make a difference," Mr Copson concludes.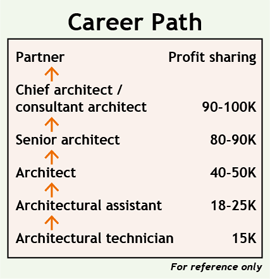 Taken from Career Times 15 January 2010, A19

讚好 CTgoodjobs 專頁,獲取更多求職資訊!