Career Path
Receiving the right call
by Ada Ng
Tony Yeung
general manager, call center
Epro Telecom Services Limited
Photo: Edde Ngan
When Tony Yeung tapped into the call centre industry 30 years ago, he did not envisage himself in a role that is tasked with the management of an 850-staff tri-centre operation. Now general manager, call centre, Epro Telecom Services Limited, Mr Yeung attributes his current success to a passion for continuous learning and his people-centric management approach.

Since enterprises are increasingly outsourcing inbound and outbound call services to maintain business efficiency, telemarketing has recently been taking off. With more players coming into the field, client expectations and demand are at their highest. "We need a team that understands client's objectives and needs, and to provide insights to their business," Mr Yeung says.

Intelligenc pays

Having worked on the frontline for 19 years, Mr Yeung joined Epro Telecom in 1999 to spearhead the company's new outbound telemarketing business. Over the last two decades, Epro Telecom has built a network of contact centres in Hong Kong and Guangzhou to support the business development needs of customers from a wide range of industries, including banking and finance, insurance, telecommunications as well as government departments.

Among a vast range of services, the company provides everything from inbound customer service hotlines to technical helpdesks, outbound telemarketing services, third party quality assurance, market survey and opinion polling services.

Starting up the outbound telesales services in the late 1990s was challenging, since telemarketing was not a universally accepted marketing tool at the time, Mr Yeung recalls. "With limited manpower and resources at the start-up, I spent a great deal of time conducting call analysis so as to assist clients in adjusting their marketing plans," he adds.

While sales results are typically indicative of success, Mr Yeung emphasises that daily progress reports help to ensure call representatives are performing up to expectations and offer insightful market information to clients. This information can be used to adjust and review sales and marketing programmes, which is critical to surviving Hong Kong's highly competitive business environment.

"As telemarketers, we're at the gateway to the end-customers and we hear and understand what they need and want," says Mr Yeung. "Customer preferences and behaviours are a good source of marketing intelligence."

Although Epro Telecom's outbound telesales services have rapidly grown in the past decade, Mr Yeung spares no efforts in understanding his clients' needs. Competition in the marketplace has made it more important to treat clients as business partners, he adds.

"Part of our role is to identify the key issues to response rates and sales transactions, and to offer solutions," he stresses. "What we need to do is to take one step forward, analysing all the environmental conditions and to recommend prompt actions. To clients, this timely analysis is a priceless toolkit for troubleshooting their marketing activities."

Supportive environment

To keep operations running smoothly and clients happy, Mr Yeung has built a supportive work environment for his staff. "I don't want my staff to operate under the assumption that the axe will fall at the first sign of failed calls," Mr Yeung says. He believes that people are more productive and self-driven in a supportive environment. "I don't want to be a parental leader. Instead, I want to make things people-specific and employ a personalised management style," he says, "After all, telemarketing is a people business.

If staff are not performing to their best, Mr Yeung recommends logging off. He explains, "The last thing I want is to allow their unmotivated mind to guide their performance," he remarks. "It is essential for team leaders to work with their staff and identify any root causes for issues or problems."

To cultivate motivation, Epro encourages internal promotions. Pointing out that about two-fifths of the company's middle management staff have been promoted from within, Mr Yeung says potential telemarketers are provided ample opportunity to develop into supervisory and management roles. Professional training is offered to those who are keen on developing into specialist roles such as insurance sales.

"You also get to learn from different industries, products and services. Such wide exposure to different businesses is what has kept me in this industry for 30 years," he notes.

Successful telemarketers tend to be patient individuals who possess a polite manner, good business etiquette and genuine friendliness, while academic qualifications are less important. Mr Yeung advises: "Since telemarketers represent a client's company, their tone of voice and manner should give positive feelings about the company they represent."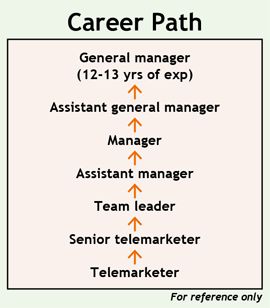 Taken from Career Times 30 April 2010, B14

讚好 CTgoodjobs 專頁,獲取更多求職資訊!