Property / Construction
Rising to the top
by Grace Chan
Albert So
chairman—Hong Kong Board
Royal Institution of Chartered Surveyors
Photo: Wallace Chan
Chartered surveyors benefit from the growing building and construction sectors
Hong Kong's surveyors play an increasingly important role in land-use planning and property management, with public concerns over issues such as environmental and heritage-building protection being major considerations.

"There's a constant demand for surveying professionals involved with development in Hong Kong, and the recent revitalisation of the building and construction sectors has led to a shortage of quantity and valuation (general practice) surveyors," says Albert So, chairman—Hong Kong Board, Royal Institution of Chartered Surveyors (RICS Hong Kong).

Mr So points out that the industry has offered rewarding career options since the 1970s, when the local economy started to boom. "The government's investment in infrastructure, and particularly in the Hong Kong-Zhuhai-Macau Bridge, will definitely boost the industry further and generate more job opportunities," he adds.

Growing competence

The surveying profession spans a range of disciplines, including planning and development and building and quantity surveying. "Surveyors are involved in everything from land-use planning to land exchange, payment of land premiums, project management and property management," Mr So says, adding that quantity surveyors and valuation (general practice) surveyors are in the highest demand.

"Since the 1970s, most of Hong Kong's quantity and valuation (general practice) surveying graduates have been hired by the Lands Department , Rating and Valuation Department and Housing Department to meet growing land-development and valuations needs," he recalls.

Mr So also noticed a growing demand for surveyors specialising in property and facility management, as well as planning and development. He explains, "Residential buildings these days tend to be part of a multi-block and it requires a higher standard of property management. Sophisticated property projects also require expertise in land planning and land leases."

Quantity surveyors may be involved in cost control, contractual arrangements and arbitration related to building projects. They are expected to possess vast professional knowledge, extending to building economics, construction law, financial controls, procurements and project management.

University degree programmes provide the foundation for surveyors' careers, but the industry requires more than textbook knowledge, says Mr So. "Fresh graduates signing on with private consultants or contractors are usually offered work-based training that equips them with the practical skills and project management experience they need to become accredited surveyors," he remarks.

Professional membership

Newcomers to the field may become professional members of either RICS or the Hong Kong Institute of Surveyors (HKIS). Essentially, they need to keep journals and log books to record their apprenticeship work experience over two years. After submitting a written presentation, they will be invited to attend a professional interview for the Assessment of Professional Competence (APC) certified surveyor examination offered by both institutes.

RICS has 140 years of history in the UK and the HKIS was founded in Hong Kong in 1984, so most local surveying professionals are members of both, Mr So points out. RICS currently has more than 5,500 members, of which 4,000 are Hong Kong-based professional members and the HKIS membership exceeds 7,000.

To keep abreast of industry developments and to facilitate career advancement, accredited surveyors must also undergo annual Continuing Professional Development (CPD) training, run by both RICS and HKIS.

"Young surveyors have access to CPD training courses on different surveying disciplines. These will gear them up for the increasingly challenging business environment," Mr So says.

Aside from the necessary technical knowledge, it is crucial for surveying practitioners to be aware of the latest social issues relevant to the industry. "People working in the private sector especially need a broader industry perspective," emphasises Mr So, who in 2003 obtained an MBA degree that has greatly enhanced his management knowledge on topics such as financial analysis, asset management and accounting.

Hong Kong surveyors have the benefit of international exposure, sound language skills and adaptability and there are ample overseas career opportunities for experienced professionals. Many Hong Kong's own surveyors are also hired as consultants on the mainland.

Young graduates should always work towards maintaining a high level of integrity, accountability and social responsibility, Mr So advises. He adds that the continuous pursuit of professional knowledge is just one prerequisite for moving up the ranks.

"Considering that surveyors need to liaise with developers, government officials, property owners and contractors on a daily basis, a strong work ethic, outgoing personality and superior interpersonal skills can help smooth the career path," he concludes.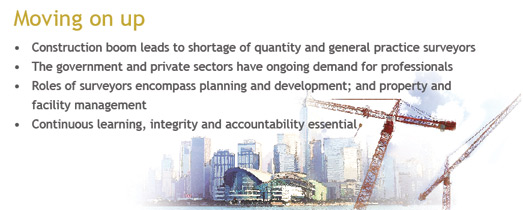 Taken from Career Times 18 December 2009, p. B3
讚好 CTgoodjobs 專頁,獲取更多求職資訊!