Financial Planning / Wealth Management
Search for excellence in financial planning
by Ella Lee
Carrie Leung, chief executive officer, The Hong Kong Institute of Bankers with Samuel Tsien, president and CEO, Bank of America (Asia) Ltd
Outcome of awards competition seen as a tremendous success
The financial planning industry is becoming increasingly important for Hong Kong's status as an international financial centre and for the long-term well-being of individual investors. To enhance overall standards and levels of professionalism within the sector, the Hong Kong Institute of Bankers (HKIB) and Career Times therefore jointly organised the first HKIB Outstanding Financial Planner Awards this year.
"The search for excellence was the key motif," says Carrie Leung, the HKIB's chief executive officer, adding that participants in the competition had the chance to review and improve their practices in financial planning. They were also reminded of the importance of continuous professional development as an essential part of any successful career.
"The performance of the participants showed that many of them have already reached a very high standard," Ms Leung says. "Even so, I believe the degree of professionalism can be further enhanced."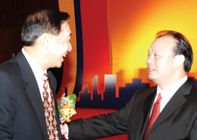 Stanley Suen (right), general manager, Career Times Online Limited with Peter Wong, executive director, HSBC


Stanley Suen, general manager of Career Times Online Limited also believes that Hong Kong must continue to improve the standard of financial planning services in order to remain competitive. "Nowadays, wealth management is about global investment," he says. "There is a lot of talent in China and elsewhere in the region creating keen competition, so professionals in Hong Kong must keep improving."

In the long run, Mr Suen believes a thriving financial planning sector will attract talent from overseas and give local people more opportunities to work abroad. "This mix of expertise and international experience will be favourable for the long-term development of the entire industry," he explains.

Industry benefits

Both organisers of the competition are confident that it has been beneficial not only for all the participants, but for their employers as well.

"While the individual financial planners have been able to improve their day-to-day practices, their companies, which have helped in preparing contestants to take part, have also had a chance to review their internal business processes and management procedures," Mr Suen

says. "That has helped them to upgrade performance and overall service standards, so the broader organisations have also gained something significant."

Ms Leung points out that the organisers insisted on a high degree of transparency in the assessment criteria and processes. In a way, this was to set an example, since transparency is considered one of the key requirements for any successful financial planner. She adds that the general public expects openness from their advisers and to know that they will always receive reliable, up-to-date information in the course of any consultation.

To foster the development of the banking and finance sector, Ms Leung says the HKIB will continue to provide training and accreditation for members, allowing them to become fully qualified professionals. The best practices of financial planning will be covered in relevant training programmes, and will be reviewed based on the feedback from this year's competition judges and participants.

Ms Leung has specifically asked the winners to share their knowledge and experience with colleagues and newcomers to the industry. She also encouraged those who didn't win a prize this time to try again next year, since the intention is to make this an annual event.

Concerted efforts

In her opinion, the HKIB Outstanding Financial Planner Awards 2006 was a tremendous success. Over 200 entries were received from practitioners working with banks, insurance companies and independent financial advisories in Hong Kong and Macau. All the major financial institutions, as well as the regulatory bodies and local academics gave the competition excellent support. Ms Leung was particularly impressed by the dedication of the organising committee and of the more than 70 judges, who willingly gave their time to assess contestants at different stages of the competition.

Currently, the HKIB has over 100 corporate members representing over 90 per cent of the banks in Hong Kong, as well as other financial institutions. Industry leaders, including Joseph Yam, chief executive of the Hong Kong Monetary Authority, make up the HKIB's council.

Mr Suen says that the partnership between the HKIB and Career Times has helped to create additional value. "With its strong network and industry expertise, the HKIB developed the criteria and methods to evaluate the professionalism of financial planners in a systematic and scientific way," says Mr Suen. "Career Times, on the other hand, with its comprehensive database of job seekers and understanding of the banking and finance industry, was able to provide a platform to deliver useful information and educate the market effectively."

Event highlights
Around 400 of Hong Kong's banking and finance elite attended the presentation dinner and awards ceremony
Peter Wong, executive director of HSBC and the HKIB's council president, made a speech
President and CEO of Bank of America (Asia) Ltd, Samuel Tsien, as the HKIB's newly elected executive committee chairman, gave his first official speech conveying congratulations to the winners




Taken from Career Times 03 November 2006

讚好 CTgoodjobs 專頁,獲取更多求職資訊!