Government / Statutory Bodies
Smart technology boosts efficiency
by Grace Chan
This is the 5th article in an eight-part series introducing winners of the Civil Service Outstanding Service Award Scheme 2009
Ip Yu-sun (left), chief manager/management
Lui Kwong-fai, senior housing manager/estate management support
Housing Department
Photo: Edde Ngan
Award-winning mobile application system enhances government department's operations

Organisations can benefit in many ways from incorporating the latest technology into their methods and procedures. Advantages include improved productivity, better service provision and greener operations.

One government structure that has embraced such positive change is the Housing Department. The department conducts about 680,000 flat inspections on a biennial basis in order to safeguard public housing resources. It has, however, found that printing, collecting and filing the subsequent paperwork are non-environmentally friendly and inefficient.

In order to create a paperless environment, the department's Business Process Support Unit has developed a Mobile Application System for Housing Management (MASHM), connecting the database on its computer system with personal digital assistants (PDAs).

The new system saves both the department's frontline staff and public housing tenants the trouble of filling in or collecting forms. Instead, all necessary information such as tenancy records, rental status and penalties against households can be updated instantly by leveraging the convenience of a PDA.

"Before we introduced the MASHM, our frontline officers had to carry piles of documents when they perform flat inspections. Each of them had to visit about 50 homes a month, handing out tenants forms, collecting them again and updating tenancy data," says Ip Yu-sun, chief manager/management, Housing Department. "A desire to enhance operational efficiency prompted the development of the MASHM."

Key advantages

Since its launch last November, the MASHM has sped up the work process by 60 per cent. As a result, increased manpower can be directed to other management issues such as allocating housing or complaints, Mr Ip notes.

"The system also has three additional benefits. Private personal data is better protected, paperless data transmission is more environmentally friendly and the simplified work procedures have enhanced efficiency," explains Lui Kwong-fai, senior housing manager/estate management support, Housing Department.

Mr Lui, who also leads the Business Process Support Unit, notes that the customised MASHM has been integrated with encryption technology and a single sign-on system to safeguard households' private data. "Our frontline staff expressed concerns about possible data loss, so the storage card was designed in such a way that the information cannot be retrieved unless it's connected to the department's computer system," he explains.

The single sign-on system also ensures identity authentication—only authorised staff have access to the tenants' personal particulars.

"We assure the safety and effectiveness of the new system and ensure that our frontline employees, who are our internal customers, feel comfortable using it," Mr Lui stresses.

Communication platform

Turning a traditional paper-intensive work process into a paperless one was relatively easy in terms of technology, according to Mr Ip. However, the challenge was to adjust the mindset of frontline staff, given their diverse age range and levels of computer literacy.

The department therefore invited all frontline staff to express their concerns and offered them a choice between various electronic devices. Training was provided to help staff adapt to the new workflow system, and they were familiarised with it over a three-month period.

"When the new system was first implemented, back-office staff took the initiative to partner with the frontline team on flat inspections to provide them with technical and moral support," Mr Ip adds.

The Housing Department regards digitalisation as key to operational efficiency and service excellence. "To embrace the changes and provide better public service, we see it as a priority that all our staff are on the same page. This ensures that the public, the department and our employees all emerge as winners," he stresses.

The department believes in acknowledging staff's efforts and therefore participated in the Civil Service Outstanding Service Award Scheme 2009, with the Business Process Support Unit winning the Internal Service Champion Award for the MASHM.

"The award recognised quality services delivered to officers of the department and public housing tenants, leading to better public service," Mr Ip notes, adding that the competition provided a learning platform for the department's staff to exchange experiences and ideas on service excellence with other government departments.

The Housing Department aims to introduce more customer services through the endeavours of its Business Process Support Unit and by taking advantage of new technology. "The MASHM can be extended to other public services, such as housing maintenance, and will ultimately help us build a highly efficient mobile office," he remarks.

One major pending project is the image digitalisation of the files relating to all 680,000 public housing tenancies. "This will save physical storage space, speed up data retrieval and again result in better service delivery," Mr Ip concludes.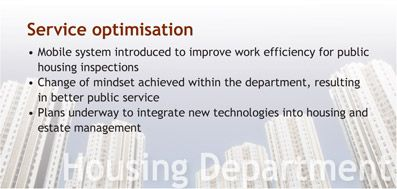 Taken from Career Times 11 December 2009, p. A10
讚好 CTgoodjobs 專頁,獲取更多求職資訊!