Career Path
Speak the same language
by Wai Ting
Sam Cheung, president
Greater China, Englishtown
Photo: Lewis Wong
Marketing gurus know how to ride on the right tools and channels to create value in alignment with the needs and desires of a well-defined audience. Sam Cheung is one such professional whose marketing experience and know-how helped propel him to the position of Greater China president of Englishtown, the English learning centres and online arm of Education First (EF), which is the world's largest private education organisation.

While growing up in Canada, Mr Cheung dreamt of joining the medical profession but changed his mind and obtained a degree in marketing and business administration—a qualification that would allow him to see the world, work on big projects and cross over into numerous, diverse industries.

He signed on with Toyota straight after graduating and stayed with the company for six years, refining his marketing and business skills and contributing to large-scale projects such as the launch of the Lexus brand in Canada.

At the time of the 1997 Hong Kong handover, he saw great promise in the region and relocated to Hong Kong.

During a stint with a customer relations management consultancy, Mr Cheung came across Englishtown while doing research and immediately spotted the opportunity of a lifetime—helping to satisfy the Chinese market's thirst for English language competency.

He wrote to EF chief executive officer Philip Hult, promoting himself as the person to help EF break into the lucrative Chinese market and, subsequently, received an invitation for an interview with EF founder Bertil Hult.

This led to Mr Cheung eventually being offered the role of running Englishtown's business in Hong Kong and South East Asia. This has over time evolved to a focus on Greater China and Englishtown is expanding rapidly under Mr Cheung's leadership.

Changing landscape

Although most employers prefer candidates pursuing careers in marketing to have related degrees, Mr Cheung believes this is not a prerequisite. "It is common for people without marketing degrees to work their way to the top," he notes. "The only requirements for entry-level positions are a good marketing and business sense, numeracy and analytical skills, and a willingness to learn and be fully committed to the job. Anything else, we can teach."

As technological advances continue to transform the outlook of the marketing profession, it is crucial for people in the industry to learn new techniques in order to collect and analyse the most relevant data on an ongoing basis.

"People must be aware of the changing world and keep abreast of the latest technological developments," says Mr Cheung. "New tools help marketers to obtain data, make decisions and move forward much faster than a decade ago. Then, good ideas were enough for a person to move into a top job; now, it is all about proficiency, data and results, he stresses.

Online marketing is the current big movement and this is likely to continue. Web-based analytical tools now track traffic, leads and browser trends. Marketers are able to collect vast amounts of real-time data, allowing them to interpret and understand consumer behaviour more precisely than ever before. This enables them to generate better returns on their marketing investments, he adds.

Room for growth

Mr Cheung's marketing team currently totals 32 people—half working on the fast-expanding China market and the other focusing on growing a global clientele.
While Englishtown markets across all channels, including print and television media, the emphasis is shifting towards the internet, according to Mr Cheung. Marketing candidates with good web experience are therefore increasingly sought after.

"Jobseekers looking for work in the industry should consider good companies that offer solid learning experience and career development opportunities, since this makes all the difference in whether they will remain stuck in the same position or get the chance to move up," he stresses.

Englishtown offers its marketing employees plenty of scope, since the organisation advertises across a range of channels and offers a high-calibre product that its workforce believes in and can therefore sell with passion.

"Importantly, Englishtown believes in training and developing our staff and promotes a healthy work-life balance to keep them healthy and productive," he says.

Any marketers wanting to achieve great heights would do well to follow Mr Cheung's example: "Find a good position within a quality company and promote your unique selling points until you achieve your career goals," he advises.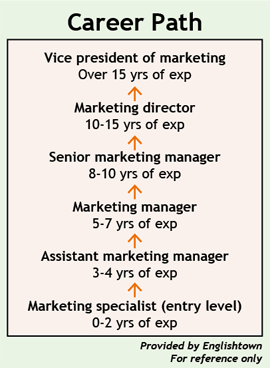 Taken from Career Times 28 May 2010, B12

讚好 CTgoodjobs 專頁,獲取更多求職資訊!