Self-enhancement
Stay ahead of the game
by Sophie Leung
Playing a major role in the transformation of the media industry
Alan Cheung, controller, online development and premium channels
Hong Kong Cable Television Limited
Photo: Edde Ngan
Digital technology has already given the world an increased choice of TV entertainment, online newspapers, podcasts and a barrage of new media contents, but the industry is set to race ahead and information technologists must be adept at change in order to be further ahead of customer expectations.
"As the media develops, IT professionals have to stay abreast of market changes and constantly update their skills," says Ringo Lam, secretary-general, TechMatrix Research Centre, and moderator of TechMatrix and Career Times' second career development seminar series where three IT elites shed light on ways key players in the new media industries give customers what they want when they want it.
Customer focus
"The average shelf life of new media products is comparatively short and IT teams must keep up to date with emerging technology," Alan Cheung, controller, online development and premium channels, Hong Kong Cable Television Limited, told the audience.
Hong Kong Cable Television Ltd has been granted new media broadcasting rights for the Beijing 2008 Olympic Games and Mr Cheung and his team are facing the challenge of innovatively adopting the newest technology to provide live video streaming via mobile phone and the internet to masses of digital customers.
Mr Cheung has more than 20 years' experience in both traditional and new media and is responsible for IT, media and business integration. In particular, his role is to oversee content distribution through multimedia portals and to lead his team to explore new media platforms. He advised candidates interested in the new media sector to bear in mind the importance of a user-friendly interface and customer-focused approach.
"Remember that your target users are not IT experts yet never lose sight of editorial standards and geographical trends," he said.
Skills and attitude
Angus Ho, general manager
HKC Technology Limited
Photo: Edde Ngan
"The information technology, internet and telecommunications industries are now direct competitors on an overlapping platform," pointed out Angus Ho, general manager, HKC Technology Limited, a company that researches and develops high quality internet and telecommunications equipment.

Innovative IT professionals willing to embrace change are highly sought after in the tough new media industry, Mr Ho said, adding that the industry wants creative individuals who believe in change and knowledge sharing. "Professionalism is not only about acquiring specialised skills, but also about having the right attitude."

Mr Ho encouraged ambitious information technologists to consider the Hong Kong Institute for IT Professional Certification's new IT professional credentialing scheme, which aims to make IT professionals globally employable.

High expectation
Allen Wong, director, product development and management, consumer group
PCCW Limited
Photo: Edde Ngan
"A can-do attitude is important for IT professionals working in the field of media," stressed Allen Wong, director of product development and management, consumer group, PCCW Limited. The company has established more than 4,000 Wi-Fi hotspots in Hong Kong to provide its customers with ubiquitous connectivity. In order to achieve this, PCCW has overcome geographical and technological challenges using sophisticated tools.

"Technology is only a tool and cannot guarantee success," Mr Wong said, noting the importance of providing products that meet customer expectations.

As a multi-service operator, it is the company's vision to create a "digital home centre", providing services encompassing every aspect of home living from high-definition television and on-the-go internet services to internet protocol security cameras.

The internet protocol television (IPTV) sector reached its break-even point last year and the company hopes that it will soon start recording profits, Mr Wong said, adding that the growth in advertising revenues in the interactive media sector contributes to his optimism about the sector's future.
Catching up
IT professionals must update their skills to keep up with new media trends
Products must be user-friendly to succeed
Creative and innovative thinking and a can-do attitude crucial
IT professional credential scheme makes professionals more marketable
New media advertising revenues on the rise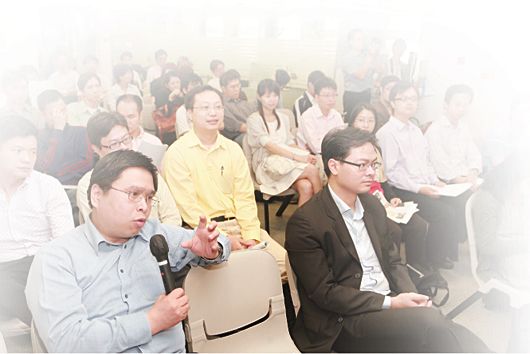 Taken from Career Times 20 June 2008, p. B19

讚好 CTgoodjobs 專頁,獲取更多求職資訊!