Money Moves
Strategic partnership yields ongoing inflow of new talent
by Jacky Wong

This is a special edition highlighting an HR trend and career opportunities in the credit card business

Leading bank teams up with recruitment specialist to source the best and smartest
David Kung, partner, Zebra Strategic Outsource Solutions
Photo: Johnny Kwok
In a rapidly changing business market like Hong Kong, more companies now turn to recruitment specialists for a wider range of human resources activities, place greater focus on revenue-generating activities, and so enjoy greater flexibility and cost-effectiveness. The services provided by Zebra Strategic Outsource Solutions to American Express illustrate how both companies have achieved a win-win situation.
Zebra's professional services encompass a full range of HR solutions including recruitment, HR outsourcing, training, eHR solution and business consulting. Its outsourcing services, available for the past six years, include talent sourcing, HR administration and payroll management. The company recently formed a strategic partnership with American Express in talent recruitment.
David Kung, partner, Zebra Strategic Outsource Solutions, says teaming up with recruitment specialists has become a popular trend. His clients range from multinationals and SMEs to newly-established companies, all aiming to achieve savings while they concentrate on their core business and future development plans.
Market trends
According to Mr Kung, "face-to-face" customer acquisition has become a significant trend in the market nowadays, and several thousand sales consultants now use this method to increase their customer base. When it comes to credit card sales, sales consultants of American Express are required to identify sales opportunities and promote premium card products to new customers. The job is challenging as they sell card products that charge an annual fee, while most credit cards in the market are fee-waived. On the other hand, it provides attractive remuneration which is significantly higher than the competition, promising career path, and enhanced training and coaching. For high performers, there is also a rewards and recognition programme, and the opportunity to convert from contract to permanent position.
Best in town
American Express focuses on attracting talents with a proven track record in sales and a flair for salesmanship. Such selectivity is necessary because of the company's premium brand image, which means its target customers are mainly achievers drawn from the middle-to-upper classes with high purchasing power. This means that job applicants must project a professional image while also being outgoing, self-motivated and result-oriented. In addition they must possess a mature character, good language and presentation skills.
Zebra sources best talents in the market via various channels and matches an applicant's skills and career aspirations with the client's needs and requirements. This helps to shorten the recruitment turnaround time while at the same time fulfilling candidates' career goals.
New recruits joining American Express are given systematic training and regular briefings on product knowledge, legal and compliance, customer service and listening skills, and enhanced sales techniques. These strengthen their competence and skills, and ensure that customers will receive quality services. As part of this process, the bank's supervisory staff keep track of the newcomers' on-the-job performance through regular team meetings. They also maintain a feedback arrangement with Zebra to update them on their nominees' work performance.
All winners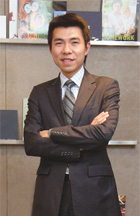 Calvin Yuen,
senior membership consultant−
premium cards, American Express Bank Ltd


Calvin Yuen, senior membership consultant−premium cards, American Express Bank Ltd, found his career really taking off when he joined the bank in 2004 as a membership consultant. Back then, he already had several years' work experience with a medium-sized bank, and was singled out by his new employer for his exemplary work performance and "can-do" attitude.

Originally a contract employee, Mr Yuen has experienced fast-track career growth and recently was promoted to senior membership consultant on permanent terms.

He says the work atmosphere, rewards and especially career prospects at American Express are "significantly different" from those at his previous employment. "In my earlier career, I worked as a direct sales professional merely focusing on product selling, but relationships with my employers and my career development prospects were short-term," he recollects. "Here I feel a strong team spirit, and our team members are clear about the direction in which their careers are going, and the business goals to be achieved."

Mr Yuen admits working as a consultant in the competitive credit card market is tough but stresses that it is rewarding career. He adds that selling fee-based credit cards is less of a challenge when the outstanding customer services and privileges offered by American Express are taken into account.

He believes the new job has also broadened his horizons in personal salesmanship. Most of his clients are professionals and affluent individuals who always demand high quality customer services. Through serving them, he has become aware that thoroughly understanding their needs and developing a passion to provide better customer services are the keys to ensuring their ongoing patronage.

The success story of Mr Yuen reflects that even when new recruits start work for the bank on a contract basis, if they demonstrate through their work performance such a strong commitment to move ahead in their careers, American Express would reciprocate by recognising and appropriately rewarding their efforts.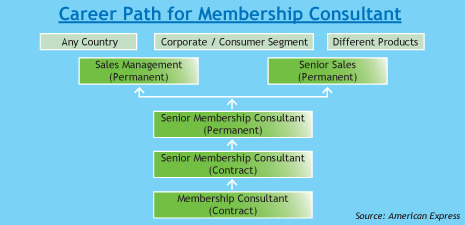 Taken from Career Times 20 April 2007, p. A2

讚好 CTgoodjobs 專頁,獲取更多求職資訊!