Career Path
Striking it big
by Grace Chan
Leon Ho
chief executive officer
Stepcase Ltd
Photo: Edde Ngan
To hit a homerun in the fast-paced arena of software engineering, savvy professionals need a good doze of technical expertise, marketing sense, good communication skills and astute foresight. Leon Ho has these in spades. "I always try to walk out into the future, then, only when you move forward can you see the opportunities ahead," he says.

Mr Ho is the 30-year-old chief executive officer of Stepcase Ltd—a mobile application software development and productivity solutions firm, which was established in 2007. "In this industry, only the timely execution of an idea will win the game," he says.

After graduating with a degree in information technology from Australia a decade ago, Mr Ho followed a typical career path—starting as a technical support engineer. He then signed on with Red Hat, the world's leading open source software company as a software engineer.

In only five years, he worked his way up to become a manager of the company's research and development department, overseeing a team of nine engineers from diverse background and nationalities. This prompted Mr Ho to start reading articles and books about management and productive efficiency.

Early success

Mr Ho's first big career hit came in 2005 when he launched a blog called Lifehack, offering daily content on productivity and personal management. In two years, its daily page view jumped from tens of thousands to one million with more than 80,000 subscribers. The blog was ranked in the Top 100 by Technorati, a search engine that tracks the world's most influential bloggers. This feat earned him a sizeable advertising revenue. "I was able to hire three full-time editors and recruit a staple of recurring guest contributors," Mr Ho says.

It was then he found himself at the crossroads of his career. "I was faced with two choices: either stay at Red Hat to move up the managerial ladder and keep running the blog on a part-time basis or start my own business." Mr Ho chose the latter and returned to his hometown—Hong Kong in July 2007.

He was subsequently admitted to the Hong Kong Science & Technology Parks' three-year incubation programme and there he set up Stepcase. The company was primarily positioned as a productivity solution provider, offering a suite of web-based project management tools for companies and individuals to work more efficiently.

In 2008, Mr Ho's second great success came before Christmas. "The festive ambience just rang a bell in my mind," he recalls. Mr Ho and his team set out to develop a camera application for iPhone called Darkroom, which prevented blurriness in pictures caused by shaky hands.

It was a phenomenal hit. The application drew some 200,000 downloads in a month, with total downloads around one million today. In 2008, Mr Ho was named the year's fourth top Asian young entrepreneur by BusinessWeek.

"This was a wake up call for me. We began to focus on developing mobile applications for photography," he remarks.

The company's second mobile application, Actioncam, launched in April this year, allows four photos to be taken at once and then combines them into a collage with special effects. Again, this mobile application has been well-received, particularly among young local celebrities who post their photos on their microblogs, spreading further the application's popularity. Currently, the application has recorded up to 200,000 downloads.

Mr Ho believes getting to the market quickly is the key to success for the mobile application business.

Young at heart

A young business entrepreneur, Mr Ho now wears several hats. He often meets with prospective investors and other business starters with a similar background while initiating marketing activities and steering the company's direction. "It is important to keep abreast of the constantly evolving industry trends and current market needs. I enjoy talking with industry players, exchange ideas and learn from them," he notes.

He advises aspiring young people interested in the field to keep developing their technical skills which will be fundamental to future success. "The ability to communicate effectively is equally important as teamwork is essential. Since there are no specific deadlines on delivering a new application to the market, self-discipline and commitment are two of the most important attributes a software engineer should develop," he advises.

Compared to climbing the traditional IT career path at big firms, Mr Ho finds the creativity of developing new mobile applications to provide mobile users more fun along with his own job satisfaction as the most rewarding part of being a Web2.0 business starter. "After all, you should have a genuine passion in software programming," he concludes.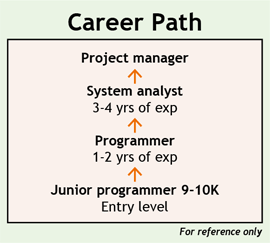 Taken from Career Times 24 July 2010

讚好 CTgoodjobs 專頁,獲取更多求職資訊!