MT Opportunities
Taste of success for young managers
by Grace Chan

Global fast-food chain targets graduates for management training

Apart from being a global fast-food phenomenon, McDonald's also offers a myriad of career opportunities for young entrants to the employment market through its one-year restaurant manager trainee programme.

"People has always been our priority. At McDonald's, we allocate considerable resources in developing people and facilitating personal growth," says Vincent Tam, senior director, people resources & general counsel, McDonald's Hong Kong. "By employing and providing the right training to quality people, we're able to provide our customers with the best service."

The manager trainee programme includes a combination of self-study, intensive classroom training and on-the-job mentoring, with a focus on self-discovery, sharing and development. Trainees are equipped with the skills needed to run daily restaurant operations and to manage staff and customers.

Since the restaurants are at the centre of McDonald's business, trainees undergo comprehensive crew training, including basic skills ranging from food production to customer service. "In addition to on-site training, trainees learn the basics through area- and floor-management training and gain experience in providing customer satisfaction," Mr Tam notes.

All-round development

The training programme requires of trainees a great deal of dedication. Trainees should expect a steep learning curve, acquiring both hard and soft skills including supervisory and interpersonal communication skills. "They're also encouraged to draw up their own personal development plans, which help them to focus on their career aspirations," Mr Tam says.

Manager trainees may be in line for promotion after six to 12 months in service, depending on their overall performance. "After their promotion to second assistant manager and then on to first assistant manager, they can expect to move on to a senior management role, either in operations or training, further down the line," he explains.

The company also has a number of intensive training programmes in place, including those offered through its Hamburger University worldwide management training centre and on-the-job training for staff on different levels.

"We support life-long learning for our employees through continuous education, as well as by providing challenging job assignments to encourage every staff member to pursue specific career goals," Mr Tam emphasises.

Dynamic workplace

In order to instil a common sense of purpose and vision in employees from across the world, McDonald's arranges various annual conventions and competitions. An Employee Incentive Tour to McDonald's restaurants in other parts of the world, for example, gather workers from different countries to share their experiences.

"Our customers love coming to McDonald's because we offer a fun dining experience in a lively environment," says Mr Tam. "Similarly, we want our staff to enjoy work and to have a healthy work-life balance. Our goals are for all our employees to speak the McDonald's language and to have fun."

The company invests heavily in building staff morale and enhancing a sense of belonging. Every year, a variety of staff activities are organised, ranging from the company-wide "All-Star" competition to annual dinner, crew rally and family outings, in addition to smaller-scale events organised by restaurants or patches of restaurants.

Outstanding staff members are rewarded through various incentive schemes, including some once-in-a-lifetime opportunities. "During the course of the last few Olympic Games events, our best-performing employees were given the chance to work as Olympic Champion Crew to represent McDonald's at games outlets," Mr Tam points out.

All store management team members get two full days off every week and employees get a fully paid eight-week sabbatical after every 10 years with the company, in addition to three weeks' annual leave.

McDonald's believes that engaging staff in volunteer and community activities helps foster a sense of pride in its team. "Programmes such as McHappy Day, which raises funds for the Ronald McDonald House Charities of Hong Kong (RMHC) for children in need are widely recognised not only by the public but also by our own staff,"
Mr Tam adds.

Road to success



Horace Shek (left), store manager

Horace Shek graduated in civil and environmental engineering from the Hong Kong University of Science and Technology in 2004, but did not embark on a career in his field of study. Instead, he joined McDonald's as a management trainee.

After more than five years with the company, three key aspects of his job keep him engaged, Mr Shek reflects. "Firstly, I enjoy my job and it makes me happy. Secondly, my soft and hard skills are constantly challenged," he says. "I've also made many friends with store staff working in other districts, having met them during training."

Aged just 26, Mr Shek has swiftly progressed up the career ladder and is so far the youngest staff member to have been promoted to store manager.

"No one day is the same at McDonald's," he says, adding that loyal customers sometimes present him with fruit or small gifts during festivals. His crisis management ability was also tested on New Year's Eve 2006, when he had to deal with a bomb threat, which turned out to be a hoax.

One of the most rewarding aspects of the job is the many development and learning opportunities that come his way. "When I was still a second assistant manager, I represented McDonald's in the Hong Kong Retail Management Association (HKRMA) Service & Courtesy Award competition and in the process learnt a lot from experienced practitioners," he recalls.

Strong foundation

Jessica Cheng, management trainee

Jessica Cheng passed a three-hour interview and evaluation before being accepted as a manager trainee in June last year.

Ms Cheng, who holds a degree in tourism management, was particularly attracted to the clear career path towards management level. During the six months of training, she learnt the basics of restaurant operations while working as a frontline crewmember.

"I found the training programme extremely well-structured, with plenty of scope for growth. Classroom lectures and on-site training equipped me with wide-ranging management skills, from shift management to procurement and roster scheduling. There was also a strong focus on soft skills such as communication and interpersonal relationships," she notes.

The biggest challenge for Ms Cheng was the ongoing assessment throughout her training. This required her to apply her textbook knowledge in real-life situations.
"It's important to be open-minded to move up the ranks at McDonald's. We have a people-oriented corporate culture and are expected to work as a team and to have fun," says Ms Cheng, who aims to be a store manager in a few years' time.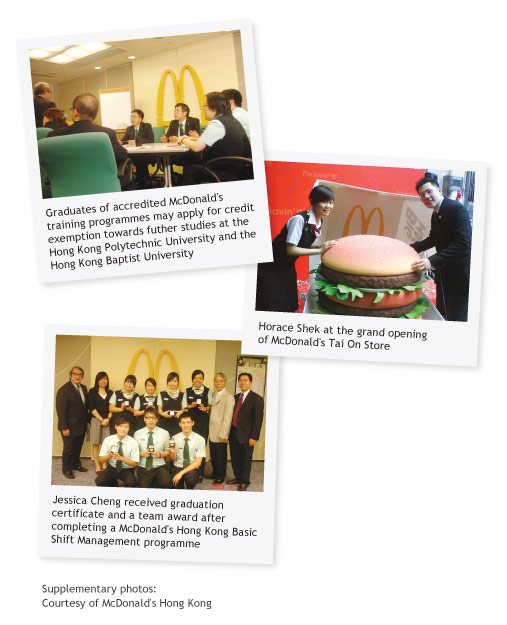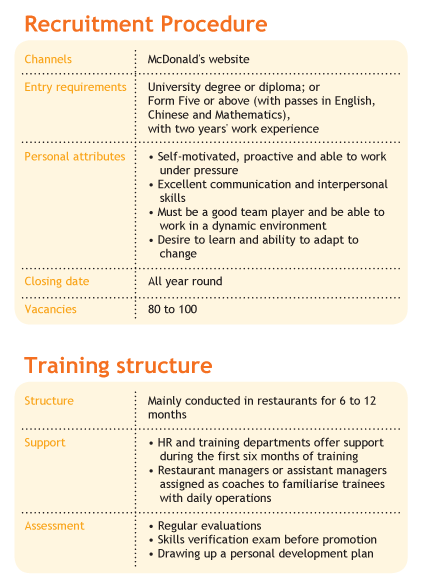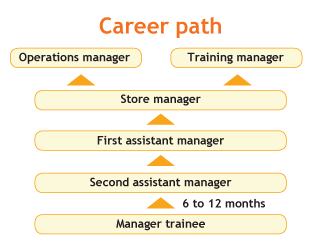 Taken from Career Times 19 February 2010, P10

讚好 CTgoodjobs 專頁,獲取更多求職資訊!