Hotel / Catering
Team emphasis with individuality in tow
by Charles Mak
Ada Wong (middle)
Director of Human Resources
Conrad Hong Kong
Photo: Edde Ngan
Conrad Hong Kong has a suite of employee friendly policies in place to ensure its "team members" enjoy a long, rewarding and fun-filled stay

Perhaps it is this keen employee focus that helps to retain the heart and mind of half of the hotel's 600 workforce for more than a decade.

"We're all on first name terms with each other," says Ada Wong, Director of Human Resources, Conrad Hong Kong. "Our uncomplicated corporate structure comprises two layers—guests and the team." This "one team" ethos is intrinsically entwined with and brings into prominence a strong sense of individuality among its employees, who are referred to as team members.

While certain hotel policies ensure a desired level of conformity, others do more than pay lip service to the spirit of individuality. "If individuality is a luxury, our team members deserve it as much as our guests are worthy of our attention to their personal needs. The last thing we want is for members of our team to work like clockwork. A job at Conrad Hong Kong should let their personality shine, keep them challenged and interested," stresses Ms Wong.

Engage and inform

A slight change of policy or management direction can easily tip the balance in an employment equation. In view of this, Conrad Hong Kong approaches any HR related issues with care and caution, often inviting the opinions of its team members via a host of activities. "It's also a great way to show respect for their experience and expertise," Ms Wong adds. "Anything that concerns our team members should first and foremost take into account their interests and concerns."

For this very reason, Ms Wong and her team are kept on their toes with an ongoing process of opinion mining. "We often pick up constructive ideas from our suggestion boxes," Ms Wong reveals. "A personal touch always works its magic, so we have an informal system to encourage our team members to approach us any time. The fact that the HR office sits right next to the team member restaurant and changing areas helps."

Now and then, members of the HR team move away from their desks to strike up a conversation with colleagues in the team member area. "We keep a log of all issues discussed and inform the concerned parties of our action," Ms Wong notes.

Aside from this, daily customer care meetings bring frontline personnel up to speed with the day's issues, while biannual commercial & quality focus meetings offer a full picture of the hotel's business, ensuring that all team members are on the same page.

To add a bit of fun to the agenda, the hotel holds a biannual team member meeting, involving a grand total of more than 300 team members in a series of games and presentations, followed by a Q&A session and light refreshment.

Team members who happen to miss out on any of such events are invited to a "morning exchange" session with the general manager and Ms Wong. Every time, a dozen team members are treated to a lavish breakfast. A bimonthly e-newsletter Conrad Connect also fills them in with the hotel's hot news. The publication contains updates on staff movements, leisure activities, personal pursuits as well as the hotel's talent development schedule. Printed copies are available for easy reference.

Going all out

Although the hotel has established a formal grievance procedure, Ms Wong believes that precautions and uninterrupted communication always take precedence over control.

New recruits are informed of the hotel's management philosophy and cultural attributes on their first day at work. The hotel's management team join them for a chat over a cup of tea and demonstrate these values personally.

Ms Wong points out that effective communication drives loyalty and helps to clear ambiguity and potential grievance early on, alleviating stress from the hotel's HR and its personnel. "Hospitality workers by and large share a service mindset and team mentality, and have the capacity to accommodate each other's work habits and needs for respect," she notes.

Team members are reminded constantly of the range of HR services via email or internal memos. Notice boards cover the walls of the team member area, which is decorated with trophy cabinets that showcase individuals' achievements in customer service as well and those on the external front.

Barbeques, birthday parties and an occasional fun days out can help boost team spirit, but Ms Wong says that the formula for successful team engagement isn't always simple and that there is no rule of thumb to follow.

"First things first, we need to be clear about our team members' aspirations and make sure that everything we do is geared towards improving interaction," Ms Wong says. A "buddy club" draws together representatives from different hotel functions and collects their views on team member activities and other employee-related issues.

She remarks: "Aside from benefits and the occasional gifts, immediate satisfaction at work, job ownership and career prospects are much more practical so any sensible employer should have in place initiatives to help their employees advance in their careers."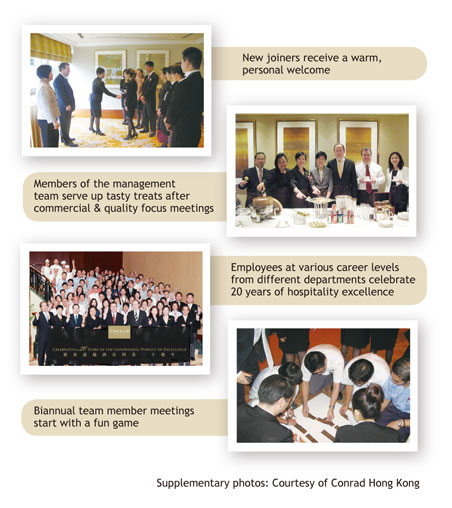 Taken from Career Times 18 February 2011

讚好 CTgoodjobs 專頁,獲取更多求職資訊!