Accounting
Tipping the balance
by Grace Chan
Neil Stevenson
executive director—brand
ACCA
Photo: Edde Ngan
Internationally recognised accounting qualification and ongoing competence development help bolster forward thinking ability and more
Rather than concentrate only on profits and losses, the accounting profession these days also focuses strongly on improving the well-being of society by taking into account corporate social responsibility (CSR) issues such as climate change and companies' carbon footprints.

"When choosing a career, young people nowadays consider more than simply financial rewards—they also look to play a part in improving the society they live in," says Neil Stevenson, executive director—brand, ACCA.

Leveraging off a diverse set of core skills including analytical measurements, auditing, accounting and reporting, accounting professionals are well equipped to help address the impact of environmental and economic issues on society. This aspect of the profession makes them an attractive, valuable asset to employers, Mr Stevenson points out.
"There are ample opportunities for accountants to help drive the global economy. They also play an important role to ensure that the increasing number of small businesses around the world is operated effectively. Very often, they act as business advisers to small concerns," he remarks.

Career options are broad, since every organisation needs accounting expertise. "Apart from specialising in audit, taxation or mergers and acquisitions, accounting professionals can develop a rewarding career in any industry they aspire to," Mr Stevenson stresses. "Even companies in the fashion and creative industries need finance advice to monitor their operating costs."

For long-term success, accounting professionals must have the right professional credentials, work experience and an ethical outlook, as well as engage in ongoing education, he adds.

Global recognition

Founded in 1904 in London, ACCA is one of the world's leading professional accountancy bodies, providing services to 140,000 members and 404,000 students worldwide through a network of 83 offices and centres.

Mr Stevenson says, "ACCA has offices in emerging economies such as Vietnam, Ethiopia and Pakistan to meet the growing demand for accountancy services on the one hand and advocating sound business practices and achieve sustainable economic development on the other."

The organisation was also the first global accountancy body to set up in mainland China back in 1988 and now boasts a growing member population of 21,000 professionals and 38,000 students in China with offices in Beijing, Shanghai, Chengdu, Guangzhou and Shenzhen, in addition to the ones in Hong Kong and Macau.

Catering for its global accountancy community, ACCA offers various professional development opportunities and has a thriving Facebook page with more than 20,000 members, points out Mr Stevenson.

Top professionals from diverse backgrounds are particularly attracted to ACCA's international perspective. "The ACCA qualification has a strong reputation across different business and social sectors and geographical locations. They find the ACCA membership invaluable for giving them the chance to connect globally through a range of networking activities, including seminars, conferences and forums."

Considering their shared educational backgrounds, training and skills, individual accounting professionals need to take advantage of ongoing learning and development opportunities to set them apart and help them excel in their careers. In particular, all ACCA members are required to engage in relevant studies to ensure that they maintain and expand the knowledge and skills they need in the dynamic and demanding business environment.

Think ahead

Mr Stevenson believes that a key success factor for accounting professionals is their forward thinking ability: "ACCA has a strong focus on issues such as carbon accounting, narrative reporting, future of audit and access to finance. Through research, discussion and events, our members benefit from learning and sharing ideas on these matters that present a challenge to their profession."

Upcoming ACCA reports include insights on issues such as generation Y, talent management, leadership as well as risks and rewards.

To gain membership, candidates are required to pass 14 exam papers, complete an online professional ethics module and accumulate three years of relevant practical work experience.

"Accounting professionals must abide by the professional code of conduct and our unique ethics module has been proven to be very powerful," explains Mr Stevenson. When completing the online ethics module, students are asked to reflect on their own values while confronting various scenarios. "There are no absolute right or wrong answers, but candidates are expected to think for themselves and develop their own ethical competence."

ACCA continues to dedicate ongoing effort to maintaining close partnerships with employers across all sectors globally through an array of different events. These include forums, round-table discussions and conferences to engage chief financial officers and senior managers to share their feedback and views on various industry issues. Other initiatives include the release of research reports and publication of award-winning industry magazines.

"ACCA has earned a strong reputation among multinational companies as a global brand. This is the best motivation for accounting professionals to enrol as members," concludes Mr Stevenson.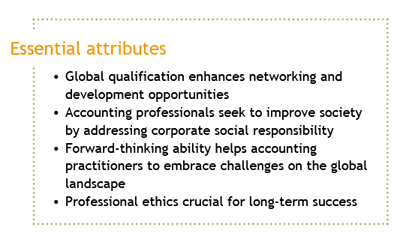 Taken from Career Times 9 July 2010, A9

讚好 CTgoodjobs 專頁,獲取更多求職資訊!