MT Opportunities
Top career vehicle in FMCG
by Grace Chan
Young graduates assume managerial roles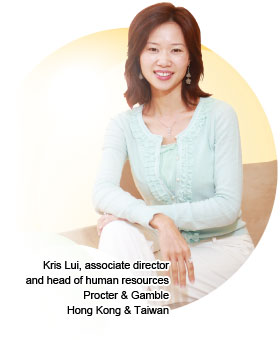 Expanding corporations around the world understand the need for and the significance of building talent. One such organisation is Procter & Gamble (P&G) Hong Kong.
P&G Hong Kong this year took in 10 graduates out of thousands of applications for its sought-after corporate elite training programme. The consumer products multinational is now focusing its sights on the 2010 programme intake.
"We believe it's our responsibility to give young graduates the means and opportunities to examine their personal interests and aspirations before embarking on a long-term career," says Kris Lui, associate director and head of human resources, Procter & Gamble Hong Kong & Taiwan.
Ms Lui herself joined P&G straight out of university about 10 years ago. "I've been given ample scope to expand my professional and personal horizons, working not only in the Hong Kong office, but also in Taiwan, Guangzhou, Shanghai and the US, serving the corporate department, global business units and even our production plants," she says.
With an ultimate goal to help new recruits develop a fruitful career and eventually move into senior positions, the company provides opportunities for graduates to work in different divisions and, sometimes, overseas. "This is also adhered to our build-from-within policy," Ms Lui notes.
P&G believes in fostering talent by giving newcomers responsibility and trust. Young recruits are therefore assigned managerial roles and work with major clients on important projects from their first day of training.
"We make sure help is always at hand and this gives them the confidence to go ahead," says Ms Lui. A core element of the programme is one-on-one mentoring. Line managers act as coaches to help guide trainees towards their goals and to facilitate personal growth.
Recruiting the right candidates is crucial to the company's success and applicants must demonstrate integrity, leadership qualities and the ability to work as part of a team, Ms Lui stresses. "Our selection process is simple but sophisticated. We learn about the candidates through direct dialogue, and see if they will fit into our corporate culture. We also ensure that new hires understand that they will one day help to groom their successors," she says.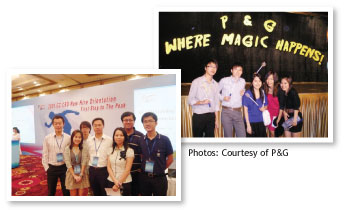 Ongoing endeavour
P&G sees creating a happy workplace as an effective way of retaining talent and has therefore introduced a wide range of staff wellness programmes such as sporting events and stress-releasing massage sessions. Initiatives such as flexi-time and work-from-home arrangements help employees achieve a healthy work-life balance.
Ms Lui adds that diversity in the workplace creates synergy and retains staff's interest in a P&G career. "Our Greater China president is Italian and our global HR director is Indian. A number of my management colleagues joined P&G as fresh graduates and we've grown together," she says.
Long-term development is achieved through continuous training and courses to equip staff with both soft and hard skills, helping them to remain at the cutting edge of the fast-paced business environment.
The company's continuous expansion through natural business growth and acquisitions means that it offers plenty of opportunity for career advancement, Ms Lui says.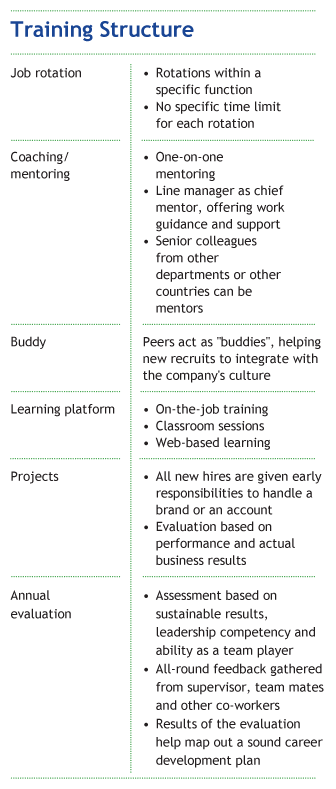 Jocelyn Cheung
account manager, customer business development

Jocelyn Cheung is a University of Hong Kong psychology graduate who joined P&G in February this year. She believes she is in the right position for future success.

Ms Cheung has already been assigned a major company account and is involved in marketing projects. "I feel that I am trusted," she says, adding that her supervisor, who is also her mentor, plays an essential role in guiding and supporting her.

Her skills have rapidly improved since her very first days at P&G, she notes. "Within a few months, I built up enough understanding of the market and products to become involved in planning marketing projects. This has already given me a great sense of achievement," she remarks.

She points out that it was the company's people-oriented culture and learning opportunities that attracted her to the programme in the first place. "Before I even started work, buddies from the company already took the initiative to touch base with me, introducing to me the company culture and infrastructure," she recalls.

Richard Ng
assistant brand manager, Whisper, Hong Kong & Taiwan

"Considering its market position and extensive brand portfolio, P&G definitely is a dream employer for any budding marketer — and I'm no exception," says Richard Ng. Mr Ng graduated from the Chinese University of Hong Kong with a marketing degree and signed on with P&G shortly afterwards.

Soon after joining, he was charged with executing marketing plans for a major consumer brand. "Only two weeks after I started, I took a business trip to Guangzhou with my line manager to present a marketing plan. I know my career is not restricted to a particular geographic location." The company recently extended its business to Taiwan, and Mr Ng envisages future challenges and development opportunities in this new market.

He does not feel he stands alone when it comes to achieving business targets. "Our top executives are data-oriented and, provided that I come up with a good marketing idea, my line manager will support me to help make it happen," he says.

Kenneth Lee
integrated business planning leader, personal beauty care, Hong Kong & Taiwan

Kenneth Lee joined P&G's product supply function in 2004 after obtaining an industrial engineering degree from the Hong Kong University of Science and Technology.

"When I was still at university, my classmates and I used to study P&G's business as case studies," says Mr Lee. He adds that he found out about the company's "build from within" policy during a campus career talk. This triggered his interest and prompted him to apply.

"This is my first job and I intend to make it my last. I have discovered that many of my colleagues have been growing with P&G for 10 or 20 years," he notes.

All P&G staff members are given clear career roadmaps and myriad opportunities to realise their goals. Mr Lee has been assigned a major cost-saving project, and is tasked with making and executing business decisions. "I just need to focus on my work and deliver the best results. Once I have completed one job, my line manager will discuss the next challenge with me. There's plenty of room for career development here."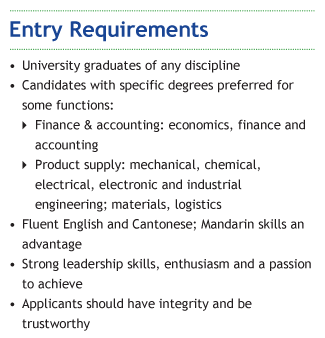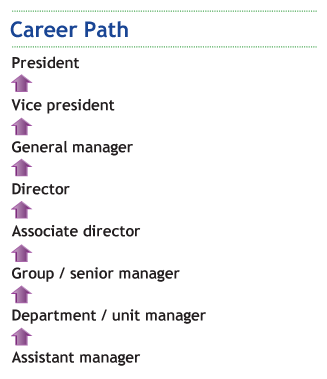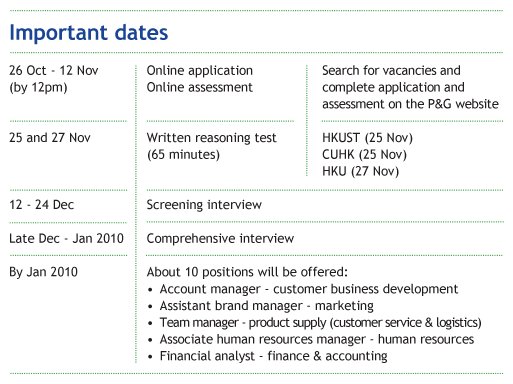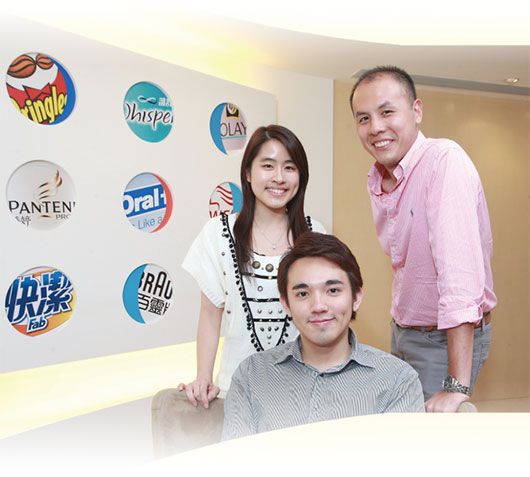 Taken from Career Times 06 November 2009, p. B2

讚好 CTgoodjobs 專頁,獲取更多求職資訊!