Career Path
Tough hide, tender heart
by Charles Mak
Betty Tang
senior nursing officer
Shatin International Medical Centre
Union Hospital
Photo: Edde Ngan
The charismatic doctrine of unconditional care and concern for others may resonate unrealistic romanticism but that very idea has been a priority for old school nursing professional Betty Tang, who rightfully assumed the role of a senior nursing officer of the Union Hospital Shatin International Medical Centre two years ago.

She points out: "You're a nurse by profession but that doesn't mean you stop caring for people the moment you leave work. It's your nature to do so."

Technology advances create a different socioeconomic perception of discourse concerning the integrity of a modern medical system, Ms Tang states, stressing however that people nowadays see the nursing profession in a different light but patient care remains, arbitrarily or not, at the core of a nurse's job.

"The pressure can be overwhelming at times, and the environment boosts your EQ and maturity," she says. "You don't wear your heart on your sleeve because you're supposed to respond to the circumstances in a strictly professional manner."

Bear the torch

Contemporary nursing training gives heavy emphasis to lateral thinking and a wider set of skills covering resource management and staff planning towards overall operational effectiveness. "Young nurses need to complement their academic training with clinical experience," Ms Tang notes. "Primarily, they learn the ropes from patient interaction."

In her current management role, she makes a point of passing on her skills and knowledge to her successors, helping them to build a solid foundation. Her days start with a daily report session and, typically, several meetings. "After these, I run my departments, see to any issues and make sure that every duty is done according to requirements," she reveals. "It's usually around 4pm when I can sit at my desk and start tending to my own stuff."

Being in a profession that observes zero tolerance on mistakes, Ms Tang digests and reflects on any medical mishaps reported on the news, taking these as motivation. She adds, "Another way that can help us steer clear of errors is to examine our workflow continuously and scrupulously."

Studying Chinese medicine and natural remedies gives her work perspective. Over the years she has also participated in an array of conferences, seminars, job attachments as well as overseas familiarisation initiatives that took her as far afield as Holland, the US, Korea and Japan. She emphasises, "The quality of care depends principally on the level of competence of the carers so we must keep abreast of change in nursing concepts, procedures and techniques."

Heart's content

Ms Tang has come a long way since her first days as a student nurse in 1978. Her achievements are attributable to three years of stringent training and her early experience as an ICU (intensive care unit) nurse at the Caritas Medical Centre. She recalls, "The ICU nursing officer in-charge there set an excellent example. She was most demanding and scrupulous with every detail. We were required to perform each duty in rigorous conformity with procedures. Today, I set a high bar for myself and my staff because lives are at stake in our line of work."

She spent the subsequent 15 years at the Baptist Hospital initially as a registered nurse. Promotions to the positions of in-charge, ICU officer and senior nursing officer were followed by an opportunity to build the hospital's Heart Centre from the ground up with responsibilities encompassing training and management.

Strong in the clinical side of things, management duties presented Ms Tang a challenge of scale. "My predecessors taught me that a manager's acumen and working style have a lexicon of influence over the breadth and depth of a decision which in turn goes the breadth and length of the entire operation," she says. Teamwork, customer service and risk management are all part of the game. "People management is an art per se," she concedes. "I enrolled in insurance forums to learn about this particular discipline."

By then she was also managing the hospital's Outpatient Department, the Skin & Laser Centre, as well as other specialty medical centres but she left in 2006 and joined Union Hospital as a nursing officer—a rank lower but with a major undertaking, which was to set up another heart centre. "I felt I could put my expertise and experience to good use," she remarks.

Professional expectations may have changed but people in the field still find the nine-hour daily schedule a pipe dream. "Nobody says the job was easy but if you have a genuine passion in it you'll soon become inured to the hardships," Ms Tang notes.

The 2003 SARS pandemic did not stop her from reporting to work. "My family has faith in me and this gives me confidence," she stresses. "Taxing times make our roles more important."

Despite this, Ms Tang finds it essential to lead and give her family a quality life. To let off steam, she takes to hiking. She also enjoys drawing, which to a certain extent explains her meticulous disposition.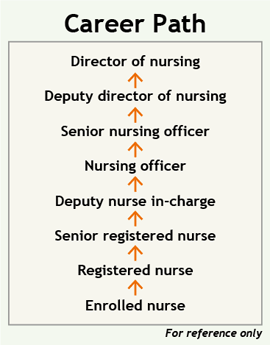 Taken from Career Times 9 April 2010, A12

讚好 CTgoodjobs 專頁,獲取更多求職資訊!