Self-enhancement
Tough times call for positive minds
by Grace Chan
Keeping a focus on the outcome can push aside fears
Tan Chew Yen
principal consultant
rogenSi
Photos: Wallace Chan
Tough times can create an exhausting list of negative feelings. It takes a positive attitude to overcome these challenges but many people find it easier said than done. At a recent Career Times seminar "Tough Minds for Tough Times", Tan Chew Yen, principal consultant of global training consultancy rogenSi proved that focusing on the outcome can help build the right attitude when facing difficulties.
"Learning to apply the right strategies can make a big difference in life," said Ms Tan. "But more importantly, learning should be fun."
To illustrate her point, Ms Tan asked her audience how long it would take them to memorise 20 words. Some of them thought that it should take at least 15 minutes. Then she connected the 20 words in a simple story and the audience memorised them in less than a minute. "There is a solution to every challenge. The motivation to learn it is the key," she asserted.
Ms Tan believes everyone has the innate ability to handle adversities. "Compared to a two-year-old child, adults have more fears and excuses that hold them back from facing challenges," she said. "A toddler keeps falling and standing back up before they can learn to walk. However, an adult may step back or seek external assistance in times of difficulties."
Given the same skill sets, excellent performance is all about having a positive mindset, which includes such attributes as high adaptability, strong ownership and independent thinking. "It's never easy to win a gold medal at the Olympic Games, and the winners are always the ones who have a positive mindset," she added.
What's your shape?
Identify one of the below shapes with your personality: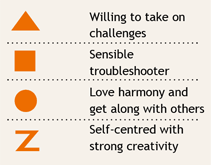 Ms Tan revealed that the relationship between the shapes and personalities are not scientifically proven. "People choose to believe the things that they want to believe, refraining from exploring their potentials beyond their perceptual constraints," she said.

Yes you can

Between a person's potential and actual capabilities, there lies an array of internal and external obstacles, remarked Ms Tan. She explained, "Internally, fear of change or being denied are possible factors leading to setbacks, whereas the economic situation is one of the external factors."

At critical moments, a "can do" attitude is the key to success. "Without perseverance, you can never find your own strengths and focus on the results of your actions," said Ms Tan who identified the process of an event as:


In most cases, people incorporate their emotions with an event, which can affect the final outcome. "For instance, you're unemployed and feel even more depressed after failing to get a job after attending 20 interviews," she said. Her advice is to recognise and focus on the outcome. "If your outcome is to get a job, you should always be well-equipped regardless of your emotions and frustrations," Ms Tan stressed.

She borrowed the story of Michael Groom to further illustrate her point. Despite being the first Australian to reach the world's third highest peak, Michael returned to Brisbane with parts of both feet amputated. With his superior determination, he managed to reach the summit of Mount Everest a few years later. "His secret to success is simply to 'walk the next eight steps'. If you believe you can make it, you'll make it," she advised.

Key notes
There is a solution to every challenge
Learn while having fun
Different strategies generate unpredicted results
Focus on achieving results
Changes accelerate the mental process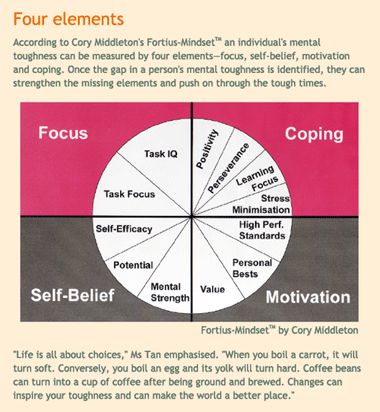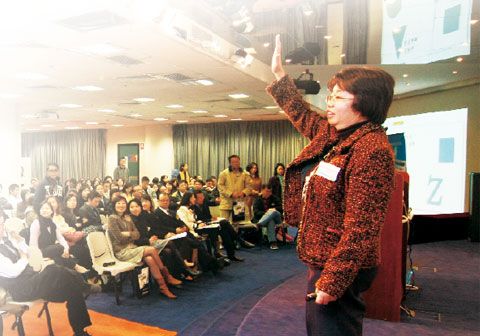 Taken from Career Times 16 January 2009, p. B7

讚好 CTgoodjobs 專頁,獲取更多求職資訊!