Self-enhancement
Trust changes everything
by Miranda Breding
An uninhibited flow of credibility within a company ultimately creates a system where talent is unleashed and business prospers
Stephen MR Covey
Photos: Courtesy of Mr Covey
Effective leadership is crucial for business success, and mutual trust is key for company heads to manage their staff efficiently.
This is where author, international keynote speaker and advisor Stephen MR Covey steps in. "I want to bring about a worldwide renaissance of trust. We've reached a crisis of trust, a time when trust is decreasing," says the high-profile chief executive officer of US-based CoveyLink Worldwide and author of the groundbreaking The Speed of Trust. Supported by Right Management Hong Kong Limited, sole licensee of FranklinCovey training programmes in Hong Kong, Mr Covey is stopping over in Hong Kong as part of his "UpClose with Stephen MR Covey – Leading at the SPEED of Trust" seminar series.
Over the past year, Mr Covey has spoken at more than 125 events in 19 countries, with audience sizes ranging from dozens to thousands. His approach is to inspire his audiences to apply the principles he believes in. "Many people know what they should do, but simply can't, won't or don't do it. I want my audiences to have the skills, motivation and plan to build trust," he says. In order to achieve this, his hands-on seminars complement the information in his book, inspiring and equipping participants.
A Harvard MBA, Mr Covey started off his career by joining his father's leadership development company, the Covey Leadership Center, as a client developer, eventually becoming president and CEO. During his tenure he oversaw a near doubling of revenues to more than US$110 million and a twelve-fold increase in profits.
In 1997, he directed a merger with Franklin Quest to form the global professional services firm and speciality retailer FranklinCovey. The move grew shareholder value to US$160 million, from a mere US$2.4 million three years earlier.
Measurable qualities
While major global company scandals are the headline grabbers, it is the little things that gradually weaken and corrode credibility, Mr Covey believes. "This happens in small steps, a day at a time, a weak and dishonest act at a time," he notes.
Trust is not an intangible quality. In fact, it can be quantified. He says, "Trust has been around forever. I focus on how trust is not just a social attribute, but also an economic driver. Trust affects speed and efficiency, which are both measurable." Challenging the traditional economic approach that strategy multiplied by execution yields the result, he also introduces what he calls "the hidden variable". His contention is that high trust is a "performance multiplier", while low trust is "a destructive tax" that diminishes and dilutes results.
"A high level of trust directly affects revenues and sales," Mr Covey stresses. "People buy from, stay longer with, refer others to and give the benefit of the doubt to those they trust."
Audiences from countries as varied as Japan, Saudi Arabia, Brazil and India lap up his message, proving his belief that although international practices may differ, the principles of trust remain the same: integrity, intent, capability and results. These principles can and must be learnt in order for individuals and businesses to become optimally effective, he says.
Key behaviours for building, extending and restoring trust include straight talking, transparency, accountability, loyalty and righting wrongs. Importantly, some behaviours that appear to build trust are actually "counterfeit", Mr Covey cautions. Such "trust-destroying behaviours in disguise" include using spin instead of talking straight and performing an activity that falls short of the desired outcome instead of delivering results.
Learning to lead
| | |
| --- | --- |
| Mr Covey is the son of best-selling author Stephen R Covey (right), whose book The Seven Habits of Highly Effective People has been described as one of the two most influential business books of the 20th century by the influential CEO Magazine | |
Most organisations are "over-managed and under-led", Mr Covey emphasises. This is a problem, as great leadership results from instinct coupled with "learnt competency". In addition, leadership is getting results in a way that inspires trust.

He regularly tells audiences that he believes a "whole-company approach" to mean that every employee is a valuable contributor to company culture. He speaks of an "inside-out strategy", which implies that one person working within his or her own circle of influence can affect an entire team, which in turn influences other teams. The ripple effect moves outward from there, eventually reaching the main stakeholders. In addition, employees who demonstrate a high level of trust and credibility become "irresistible" in the long run.

"Self-trust is the very basis for building a company culture of trust encompassing both managers and employees," says Mr Covey. While he sees trust as a hard-edged economic driver, it is also a perception. Anonymous surveys are therefore well suited to assessing trust levels within organisations.

The bottom-line is that people tend to give back what they receive. Distrust therefore begets distrust, while trust leads to an upward cycle of credibility and confidence.

Inevitably, it is sometimes necessary to weed out untrustworthy employees. "If an employee achieves the end that everybody wants, but does it in a way that blatantly defies organisational values, that production will not be sustainable, nor will the fruit be good. It will taste bad. It will smell bad. Even if it looks good on the outside, it will be rotten inside, and it won't create long-term credibility and trust. You simply can't get a sustainable yield of good fruit if the results are severed from the character roots."

In such cases, Mr Covey believes that the only options are for the employee to learn to operate within the company's value structure or to be let go. "Even top results will not offset a lack of integrity. At some point the cost becomes too great. That point may need to happen sooner rather than later," he remarks.

Applying the principles

With a clientele that includes multinational organisations, Mr Covey is often called upon to help initiate cultural change within companies and finds that trust issues are particularly crucial when companies merge. "The merger may make sense on paper, but often the process gets derailed because of an inherent low level of trust," he says.

Far from being only inspirational, Mr Covey's principles of trust can be directly applied to build credibility and work towards success. He cites the example of a businessman who bought a multimillion-dollar company that had been purchased and sold three times in the previous four years. Each of the earlier buyers had promised staff measures that they never followed through.

Unsurprisingly, the new owner arrived to face sceptical managers and employees. After quizzing them, however, he vowed to deliver on 14 commitments, all of which he met within a week. He again approached his staff, asking them what else he needed to do.

"His credibility instantly skyrocketed," Mr Covey recounts. "Almost overnight, he created an environment of trust, transforming the long-standing tax into a dividend. Results quickly followed. After several years of stagnant or negative growth, revenues doubled in the first year and profits increased even faster."

Mr Covey not only advises organisations in emergency situations, but also companies at the top of their game that refuse to rest on their laurels and know that although they are good, they could get a lot better. Many of them end up professing that the principles gleaned from The Speed of Trust gave them the extra push towards success.

A positive influence

Increased trust can directly lead to a growth in production. Take the real-life example of a mid-level manager with a reputation for being honourable and achieving results. Upon being offered a position managing one of his company's plants, the manager accepted the position on condition that he would be allowed to depart from regular procedures, which he believed were distrustful, and instead operate the plant on policies of trust. After considering his track record, his superiors agreed to this, and found that the plant became the highest-producing unit in the organisation within months. Explaining his success, the manager pointed out that he had inspired trust through leadership. His team went on to positively influence the entire company.

Crossing the barriers

Company mergers can be particularly tricky when the two organisations in question have directly opposing approaches. In one recent instance, Mr Covey was asked to intercede when a crisis arose following a merger between two prominent companies based in different countries. A deadlock had been reached, as the two former competitors struggled to blend not only two national cultures, but also two company cultures, while at the same time trying to cross language barriers. A closer look revealed company division and mixed loyalties. The challenge for Mr Covey was to apply his principles of trust to mediate in the situation, a process that is still ongoing.

About Stephen MR Covey
Co-founder and CEO of CoveyLink Worldwide
Former CEO of Covey Leadership Center
Chairman of the Human Performance Institute's advisory board
Author of The Speed of Trust
Popular keynote speaker and advisor on trust, leadership, ethics and high performance
Business wisdom

The Speed of Trust challenges the notion that trust is merely a soft social virtue. It is instead a hard-edged economic driver, which makes organisations more profitable and relationships more energising. The book contends that the ability to establish, grow and restore trust is a critical leadership competency in the global economy.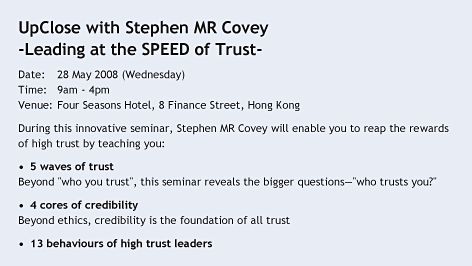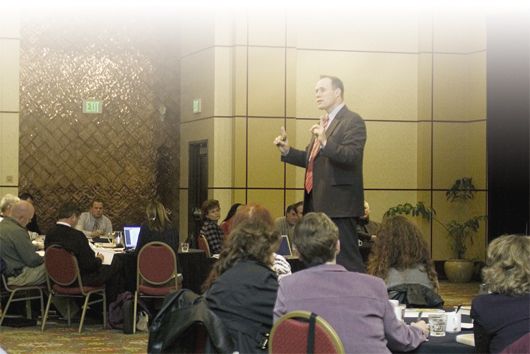 Taken from Career Times 16 May 2008, p. B17

讚好 CTgoodjobs 專頁,獲取更多求職資訊!