Self-enhancement
Turning fears into motivation for success
by Annie Leung, chief executive officer, CEO mindPower ltd

This is the third article in a 9-part series on empowering executives to climb up the career ladder

How a business breakthrough was achieved despite initial opposition from the top down
Two travellers were hit by a sandstorm while journeying across a desert, and afterwards found they had only half a bag of water left. One cried, "We'll die because the water bag is half empty." The other replied, "No, it's half full, and we'll fill it up at the oasis ahead. Let's move."
You, too, might have suffered setbacks and various degrees of fear, perhaps from having a brilliantly prepared proposal rejected, or when facing a threatening attack from your company's competitor.
In such negative situations, many people may give up the fight and fade away. However, some may proactively turn the fear into motivation, moving ahead and achieving success. The key is to recognise what leads to the fear and determine a way to tackle it.
Turn fears into actions
Management books teach us how to "speed read" people by observing their behaviour, but most fail to address their key motivational factors — FEARS. I was introduced to Enneagram several years ago as a systemic personality theory to understand the fears and motivational forces behind the nine types of personalities. The following recounts how I was able to turn a seemingly crazy idea into a business breakthrough.
We were the underdog publisher competing for the Primary School General Studies Project. With a new syllabus, schools would need to focus on Project-based learning, which most teachers were then not accustomed to. Remembering my previous experience in sending a merchandising team to support the retailers, I thought of providing the same sort of support, in terms of an education service team, for teachers to execute these projects. But my boss just gave me a NO.
"Your education service idea won't work," rasped the president, rejecting my idea. But a leader should never be afraid of trying new things.
I knew I needed to do some internal salesmanship and remove all obstacles before I could convince my boss. My approach was to employ the Enneagram to help me to understand the fears of key persons and so help them surmount such fears and turn it into motivation.
Personalities and mindPowers
I first talked to my sales director, a "loyalist". From Enneagram, I understand that his strength lies in ironing out details, but his fear was to feel insecure at times of decision:
Sales director: "No one's done this before. What if it doesn't work?"
Annie: "What if we don't make the numbers this year?"
Sales director: "What if teachers feel we're intruding on their professionalism?"
Annie: "Then why don't we find out by asking them?"
Next, I needed an action-oriented person to spearhead the event. My goal-oriented sales manager, an "achiever", was the perfect person.
"Here's an idea that will make us win! How can I help you?" I said.
In just a few days, he organised a full task force to execute the research that the sales director had planned.
Now with all major stakeholders convinced, the only one left was my boss, the "challenger". I appealed to his sense of team spirit.
"With solid research support and sales team buying in, we as a team feel that the education service idea will help us make the numbers," I said.
Finally, I got a "Yes" from the president. The education service team was a revolutionary service, and the company soon won a fierce battle and gained 30 per cent market share. This could never have happened if I hadn't addressed each member's unique fears and turned that into strong driving force.
There is no magic in transforming ideas into reality. It just takes a little understanding of yourself and others.
Enneagram is a good tool in helping us understand the personalities of human beings. As a first step, you recognise the fear and motivation of a person, next you devise a strategy to make good use of such characteristics.
The next article in this series will provide insights into how to break through in your career.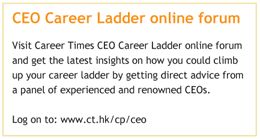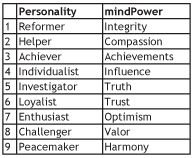 | | | |
| --- | --- | --- |
| | | Annie Leung is chief executive officer of CEO mindPower ltd. Before starting her own consultancy business, Ms Leung held senior positions in various multinational companies: Warner Brothers, Mattel Toys & Longman Education. Over the years, she has successfully built renowned brands such as Hello Kitty, Barbie and Longman Textbooks across the FMCG, retail and education sectors. |

Taken from Career Times 02 February 2007

讚好 CTgoodjobs 專頁,獲取更多求職資訊!