Career Path
Unlocking academic experiences
by Charles Mak
Janice Yao
founder and education consultant
Maxway Education
Photo: Dickie Tam

Parents send their children abroad for one universal purpose: giving them an alternative to a typical local education. However, the number of discerning parents turning their back on the local education systems increased significantly earlier this year for one phenomenal reason, according to Janice Yao, founder and education consultant, Maxway Education: "Some 90 per cent of our clients this year told us they didn't understand the new school structure."

In fact, an overseas education touts manifold benefits and Ms Yao, who graduated with distinction from the prestigious Richard Ivey School of Business of the University of Western Ontario in Canada, knows it well.

Exemplary exposure

A North American education and a handful of study sprees across Western Europe gave Ms Yao more perks than sheer academic abilities.

"Multinationals prefer job candidates with overseas exposure," she says. This may have been the reason leading to her first job with the Hong Kong Trade Development Council as she returned to the SARS-threatened Hong Kong in 2003.

"I wrote to the organisation enquiring a job position when I was still in Canada," she recalls. The job exposed her to various cultures and business settings but after a brief year she left to pursue her dream in the overseas education business, an original concept that sprouted early in her university studies.

"My own experience prompted me to start Maxway," she notes. "I wanted to send these teenagers abroad so that they could soak up the experience the way I did."
She points out that the ability to use or manipulate the English language effectively in an environment that is predominantly English speaking also gives young career-seekers an upper hand.

"Hong Kong people are by and large well educated but most don't know how to put their education into context with business," she observes. "Employers nowadays do favour generalists who can bring a new dimension into the business."

Starting up

The first two years in the trade proved hard going, since the increase in business entailed scopes of duties that were met initially with reluctance and incompetence from certain staff. "Those who hung on to us have trust and faith in Maxway," Ms Yao reflects.

Over the last six years, Ms Yao and her team have helped allocate about 2,000 overseas placements to Hong Kong's aspiring students, with plans into Shenzhen China now well underway. "We've already introduced overseas curriculum into the school system in Hangzhou a few years back and are now looking into a B2B (business-to-business) model," she explains. "Shenzhen is an ideal testing ground because of its cultural proximity to Hong Kong. We are currently setting up an infrastructure there."

Service excellence stimulates word-of-mouth effects, which contribute to some 40 per cent of the company's business. In a nutshell, Maxway's education consultants see clients, which include education institutions, parents and students, and are tasked with enquiries and requests on a day-to-day basis.

"Interestingly, our customers don't perceive us as a commercial outfit," Ms Yao concedes. "It is our role to offer them choice, one that best meets their preferences, aspirations and expectation towards an overseas education."

Members of the Maxway team also conduct follow-up services in October—one month into the school year. "We arrange a telephone conversation with the students," she says. "This will also give us a user's perspective on the individual institutions who must deliver promises and perform above par."

Leader of the pack

Since education can have a lasting impact on a child's future, part of Ms Yao's job is therefore to ensure Maxway's consultants remain attentive, responsive and reliable trouble-shooters who readily prick up their ears and never fall short of advice, with the bulk of her duties lies in HR planning and staff training all within a nine-hour daily time frame.

She may have only eight staff for the moment but as a company chief, she makes sure her staff are paid on time, challenged on the job and developed for the long term. "I enjoy the responsibilities," she emphasises.

Ms Yao refuses to be tripped up by red tape, and handles unrealistic requests and expectations with tact. "It is a challenge to satisfy everybody's agenda," she adds.

Aside from getting her kick from an annual getaway, Ms Yao, who last year took on the role of president of the Junior Chamber International (JCI) Hong Kong's Ocean Junior Chamber, gets her chills and thrills by taking a swim in summer mornings and going hiking on warm winter days. "I live a simple life," she notes, but reveals plans to make her A Capella (a vocal performance without the accompaniment of musical instruments) debut someday.

"Peer interaction allows me to see myself from a different point of view," she notes. "The learning curve is different from that with my staff or clients."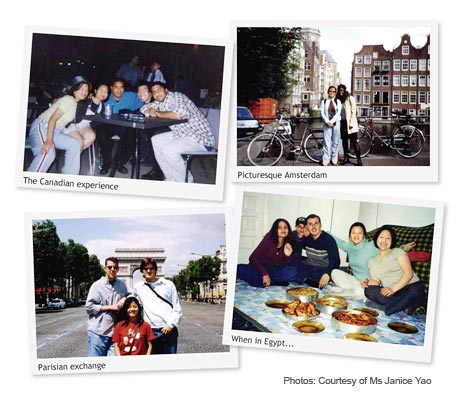 Taken from Career Times 10 December 2010, B10

讚好 CTgoodjobs 專頁,獲取更多求職資訊!