Education
West meets East
by Grace Chan
Billy Mak, associate professor, department of finance and decision sciences
School of Business; associate director (Hong Kong class), MBA programme
Hong Kong Baptist University
Photo: Dickie Tam
MBA programme engages students in commerce on the mainland

A thorough understanding of the mainland China business environment and practices are essential for today's executives wanting to extend their scope across the border.

The Hong Kong Baptist University (HKBU) School of Business' MBA programme, launched in 1994, was one of the first of its kind to incorporate a strong China focus, exposing students to the general management knowledge and skills necessary for conducting commercial dealings with mainland-based companies.

"Our MBA programme responds to China's growing importance in the global business arena, highlighting mainland markets and practical application," says Billy Mak, associate professor, department of finance and decision sciences, School of Business, HKBU.

The curriculum covers courses with a worldwide perspective, such as international management, global human resources management and international financial markets and derivatives trading. It also introduces Chinese thinking into management studies through a range of elective courses on topics such as China marketing and foreign investment issues and Chinese wisdom and management.

"Western and Chinese people tend to have varying approaches to conducting business and it's essential that these differences are acknowledged, especially with ties between Hong Kong and the mainland growing stronger," notes Mr Mak, who is also associate director of the university's MBA programme (Hong Kong class).

Asian approach

MBA students these days pursue knowledge that can be translated into practical skills. "By applying the philosophies contained in Sun-Tze's The Art of War to an actual mainland business context, for example, students gain a better understanding of traditional Chinese values, Mr Mak points out, adding that elective courses integrating ancient and modern Chinese management wisdom are becoming more popular among the university's MBA students.

Another key feature of the programme is a week-long business field study, which allows students to interact with representatives from mainland or international companies and to learn from them.

During the trip, students are divided into small groups for a comprehensive evaluation of the company in question, after which they draw up a list of recommendations to improve its business performance.

Guided by teaching staff, the students then apply classroom knowledge to produce a client-based consultancy report as their final project. The organisation under scrutiny usually keeps these consultancy reports for reference.

Previous graduates visited firms in Urumqi, Chongqing, Qingdao, Dalian, Beijing, Wuhan and Nanjing, completing projects for companies in a range of sectors including retail, manufacturing, technology and the service industry.

The MBA programme can be completed on a full-time or part-time basis, spanning either 12 months to two years. Its structure and focus have helped build a strong connection with the mainland China business community and academic sector, Mr Mak says.

Aside from Hong Kong classes, the HKBU also open China classes in selected mainland locations. This enables interaction between Hong Kong participants and their counterparts across the border.

Global perspective

In bid to maintain a strong global vision, the programme exposes students to the multiple dimensions of international business. Students are given opportunities to join international exchange programmes offered by a number of the university's overseas partner institutions. Credits earned during such programmes are recognised by the HKBU.

To keep up with the rapidly evolving global business landscape, the School of Business regularly reviews its MBA curriculum, introducing new courses. Examples of such recent addition are corporate governance and Chinese wisdom and management.

Apart from classroom lectures, the institution also runs regular seminars, where prominent business figures and leading academics address students on the latest relevant local and international issues.

As part of its mission to develop well-round executives, the programme also incorporates managerial workshops to hone students' soft skills. These range from time management to leadership, communication and presentation. Other extramural courses on offer include workshops on lifestyle topics such as wine appreciation.

Average class sizes are restricted to 40 students, comprising mainly senior managers and professionals with an average of nine years' work experience. This policy is to ensure that students receive sufficient attention from teaching staff.

"The majority of our MBA candidates are Hong Kong locals, but we also have students from the mainland, Japan, India, France and Germany," says Mr Mak.

Aside from facilitating cross-cultural interaction, the programme provides students with the necessary knowledge and professional networking opportunities to help them move forward in their careers. "Students may also expand their networks by attending off-campus events and alumni activities," Mr Mak concludes.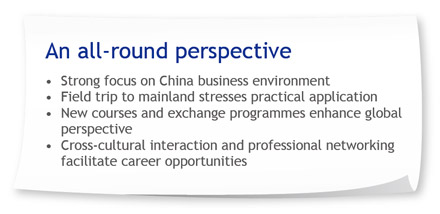 Taken from Career Times 26 February 2010, A10

讚好 CTgoodjobs 專頁,獲取更多求職資訊!