Career Path
World-class research for the textile industry
by Kirque Leung
Haider Barma, chief executive officer, The Hong Kong Research Institute of Textiles and Apparel
Photo: Edve Leung
New centre for cutting-edge R&D programmes in textiles and apparel
One of the major themes for local manufacturing industries in the last 25 years has been the relocation of labour intensive production to facilities across the border and the development of Hong Kong as a service hub providing management and technical expertise. With this has come the need for industry-related innovation and enhanced research to ensure productivity is improved, efficiency increased, and that companies retain a competitive edge.
To meet this need, the Hong Kong Government has helped to set up six research and development (R&D) centres under the Innovation and Technology Commission (ITC) funding scheme.
A total of HK$5.25 billion has already been committed to support a variety of specialist programmes and, in April this year, the Hong Kong Research Institute of Textiles and Apparel (HKRITA) was also established. It is destined to play a key role in facilitating research and developing practical new applications for the industry.
As a limited company, the institute is run independently with its own board of directors. "We draw on the research expertise of our host institute (the Hong Kong Polytechnic University) and technology partners to serve the highly competitive textiles and clothing clusters in Hong Kong and mainland China," says Haider Barma, chief executive officer of HKRITA. He adds that the core competencies include textile technology and chemistry, fashion and textile design, quality management, marketing, merchandising, and fashion retailing.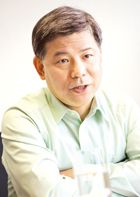 Ho Kai-chiu, director of research and development

Ambitious plans
For some time, the PolyU's own Institute of Textile & Clothing has been regarded as Hong Kong's principal centre for research in the sector. It has accumulated extensive experience by devising advanced technology, and its many notable achievements have won it a reputation as one of the world's top three textile and apparel research facilities.
"With these advantages, we are confident of leveraging the collective R&D capacities of Hong Kong's universities and related institutions in mainland China and overseas in order to foster the industry's growth," Mr Barma says.
Ho Kai-chiu, director of research and development for HKRITA, claims the institute was set up at the ideal time. The introduction of the Closer Economic Partnership Arrangement (CEPA) and the removal of quotas under the terms of the mainland's accession to the WTO should provide a significant boost to exports. It should also lead to more high-value products being developed and then manufactured in China for the global market.
Dr Ho believes that the experience and known reliability of Hong Kong companies will allow them to make the most of these opportunities and continue to benefit in the long run.
Three schemes
The institute will facilitate any number of R&D programmes involving different organisations specialising in diverse parts of the textile and apparel industry. Primarily, though, it will concentrate on three types of scheme. There will be platform research programmes open to interested parties including universities, institutions, and trade and industry associations. These should have the support of at least two industry sponsors willing to contribute no less than 10 per cent of the project's costs.
In addition, private companies can take part collaborative research programmes, and companies or consortia can request and pay for consulting and research services to assist them in specific areas.
According to Mr Barma, the new R&D centre will provide plenty of scope for local and overseas experts from different academic backgrounds and with expertise in many different fields. "Since there are a great number of ongoing projects, we are continuously looking for experienced professionals and project managers," he says.
Main focus for R&D
New materials, textiles and apparel products
Advanced textile and production technologies
Innovative design and evaluation technologies
Enhanced industrial systems and infrastructure




Taken from Career Times 24 November 2006

讚好 CTgoodjobs 專頁,獲取更多求職資訊!